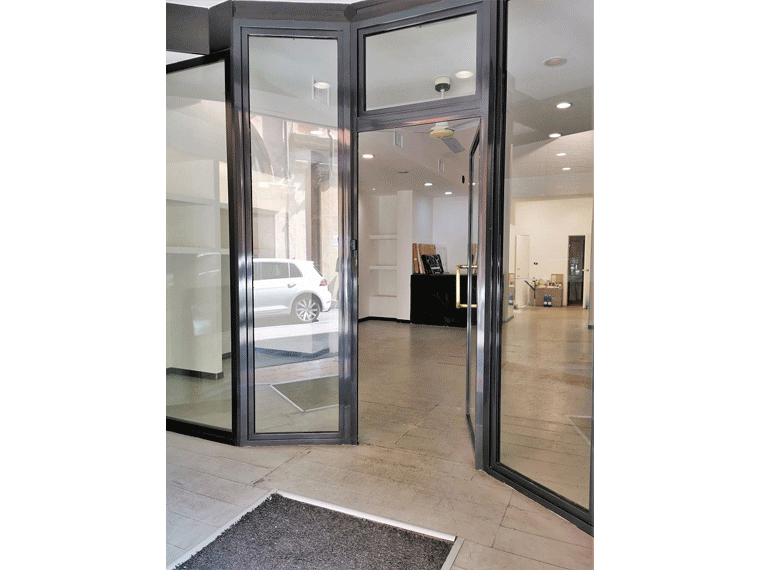 english -- español -- italiano
In 2021 the studio erAArte reopens as private studio in Via Nazario Sauro 7/a – Bologna – Italy
Historical journey
The studio erAArte begins its cultural activities as art gallery in May 7, 1994, presenting in the city of Bologna the Swiss artist Marianne Eigenheer. Marianne is the first artist to exhibit as part of the ContemporaneAA International program, an event that was intended to present international artists such as Andreas Gehr, Bill Scott, Anna B. Wiesendanger...
"The studio erAArte with the exhibition ContemporaneAA International, wants to promote a further possibility of exchange among artists with different cultures. This exhibition will be followed by others, that will have the function to consolidate the work that the gallery wants to pursue as a moment of cultural information and as dialectical relationship among artists with diverse expressions and purposes; this is the specific choice of the gallery: to propose artists different in content and method. "
The intention of the gallery was then to present artists who were operating with various expressive forms: painting, sculpture, video art, photography, installations. In parallel with "collettiva 1e2", were presented young Italian and foreign artists: Matthias Aeberli, Roberta Fanti, Felix (Dario Ruggeri), Felix * (Simona Ruggeri), Leone Monteduro, Adriano Nardi, Marc Siegrist, Simone Zaugg. The ethical concepts on which the gallery had decided to develop its own cultural path, were clearly expressed in the presentation of the exhibition itself.
"The studio erAArte aims to promote the possibility of bringing together different types of trend, we want to create a neutral environment that allows artists and people interested in art to express different opinions at the same time, we believe this will produce a series of direct stimuli among the artists and the people who will follow the work of the gallery, encouraging meetings that enrich the artistic and cultural creation, and equally productive confrontations. As gallery owners we have chosen to start not from a situation of identity with the intention to make a trend; on the contrary we seek the interference, although we are aware that this will result in greater difficulties from an organizational point of view, to involve artists available to operate in a context of differences. In Collettiva we propose some young artists ... "
For the whole period of its activity, the studio erAArte put itself up strictly respecting an ethic that had as its objective the protection of the artistic ideal as the fundamental principle of making art, freeing from all those structures and external relations that could lead to pressures or compromises unrelated to the reasons for making art. In 1996, the studio gallery eraarte ended its activity is no longer able to support the economic effort needed to maintain those conditions of independence that had characterized the path. In 1996 the studio erAArte gallery ended its activity, no longer being able to support the economic effort required to maintain those conditions of independence that had characterized its journey.

En 2021 el studio erAArte se vuelve a abrir como un estudio privado en via Nazario Sauro 7/a – Bologna – Italy
Camino histórico
El studio erAArte comienza sus actividades culturales como galería de arte el 7 de mayo de 1994, presentando en la ciudad de Bolonia la artista suiza Marianne Eigenheer. Marianne es la primera artista a exponer al interior de la programación de "ContemporaneAA International", un evento que tenía como objetivo la presentación de artistas internacionales como Andreas Gehr, Bill Scott, Anna B. Wiesendanger...
"El studio erAArte con la exposición ContemporaneAA Internacional, quiere promover una posibilidad adicional de intercambio entre artistas de disímiles culturas. Esta exposición será seguida por otras que tendrán la función de consolidar el trabajo que la galería quiere llevar a cabo, tanto como momento de información cultural, que de relación dialéctica entre artistas con diferentes expresiones y finalidades discordantes. Esta es la elección específica de la galería: reunir artistas distintos en contenido y método".
La intención de la galería fue entonces presentar artistas que actuaban utilizando diferentes formas de expresión: pintura, escultura, videoarte, fotografía, instalaciones. En paralelo con "Collettiva 1e2", se presentaron jóvenes artistas italianos y extranjeros: Matthias Aeberli, Roberta Fanti, Felix (Darío Ruggeri), Felix * (Simona Ruggeri), Leone Monteduro, Adriano Nardi, Marc Siegrist, Simone Zaugg. Los conceptos éticos en los que la galería había decidido desarrollar su propio camino cultural se expresaron exactamente por medio del conjunto expositivo en sí.
"El studio erAArte tiene como objetivo promover la posibilidad de reunir diferentes tipos de tendencias, queremos crear un ambiente neutral que permite a los artistas y las personas interesadas en el arte, de expresar simultáneamente opiniones diferentes; creemos que esto va a producir una serie de estímulos directos entre los artistas y también en las personas que van a seguir el trabajo de la galería, promoviendo encuentros que enriquecen la creación artística y cultural y enfrentamientos igualmente productivos. Como galeristas rehusamos una situación artística de identidad ético-estética finalizada a la voluntad de soportar una tendencia, por el contrario tratamos de encontrar interferencias, aunque somos conscientes que todo esto se traducirá en mayores dificultades desde el punto de vista organizativo, para involucrar artistas disponibles a operar en un contexto de diferencias. En "Collettiva" vamos a proponer algunos artistas jóvenes... "
Durante su período de actividad, el studio erAArte siempre ha respetado rigurosamente una ética que tenía como finalidad la protección del ideal artístico como principio fundamental para crear arte, rechazando todas las estructuras y relaciones exteriores que podrían conducir a presiones o compromisos ajenos a las razones del hacer arte. En 1996 la galería studio erAArte puso fin a su actividad, puesto que ya no era capaz de soportar el esfuerzo económico necesario para mantener esas condiciones de independencia que habían caracterizado su viaje.
Nel 2021 lo studio erAArte riapre come studio privato in via Nazario Sauro 7/a – Bologna – Italy
Percorso storico
Lo studio erAArte inizia la sua attività culturale come galleria d'arte il 7 maggio 1994, presentando nella città di Bologna l'artista svizzera Marianne Eigenheer. Marianne è la prima artista a esporre all'interno della programmazione di Contemporanea International, una rassegna che si prefiggeva di presentare artisti internazionali quali: Andreas Gehr, Bill Scott, Anna B. Wiesendanger...
"lo studio erAArte con la rassegna ContemporaneAA International, vuole promuovere una ulteriore possibilità di scambio tra artisti con culture diverse. A questa rassegna ne seguiranno altre che avranno la funzione di consolidare il lavoro che la galleria vuole portare avanti, sia come momento di informazione culturale che di relazione dialettica tra artisti con espressioni e finalità tra loro differenti; è questa la specifica scelta della galleria: proporre artisti tra loro diversi per contenuto e metodo."
L'intenzione della galleria era quindi di presentare artisti che operassero con forme espressive tra loro diverse: pittura, scultura, videoarte, fotografia, installazioni. Parallelamente con "collettiva 1e2", venivano presentati giovani artisti sia italiani che stranieri:Matthias Aeberli, Roberta Fanti, Felix (Dario Ruggeri), Felix*(Simona Ruggeri), Leone Monteduro, Adriano Nardi, Marc Siegrist, Simone Zaugg. I concetti etici su cui la galleria aveva deciso di sviluppare il proprio percorso culturale erano chiaramente espressi nella presentazione delle rassegna stessa.
"Lo studio erAArte si propone di favorire la possibilità di incontro tra diversi tipi di tendenza, vogliamo creare un ambiente neutrale che permetta agli artisti e alle persone interessate all'arte di poter esprimere contemporaneamente opinioni diverse; questo riteniamo produrrà una serie di stimoli diretti tra gli artisti e sulle persone che seguiranno il lavoro della galleria, favorendo incontri in grado di arricchire la creazione artistica e culturale, e scontri ugualmente produttivi. Come galleristi abbiamo scelto di non partire da una situazione di identità col proposito di realizzare una tendenza, cerchiamo al contrario l'interferenza, anche se siamo consapevoli che questo comporterà maggiori difficoltà dal punto di vista organizzativo nel coinvolgere artisti disponibili a operare in un contesto di differenze. In Collettiva proponiamo alcuni giovani artisti..."
Per tutto il periodo della sua attività, lo studio erAArte si è proposto rispettando rigorosamente un'etica che aveva come finalità la tutela dell'ideale artistico quale principio fondamentale del fare arte, svincolandosi da tutte quelle strutture e relazioni esterne che avrebbero potuto portare a pressioni o a compromessi estranei alle motivazioni del fare arte. Nel 1996 la galleria studio erAArte terminava la sua attività non essendo più in grado di sostenere lo sforzo economico necessario a mantenere quelle condizioni di indipendenza che ne avevano caratterizzato il percorso.