16119 (work in progress)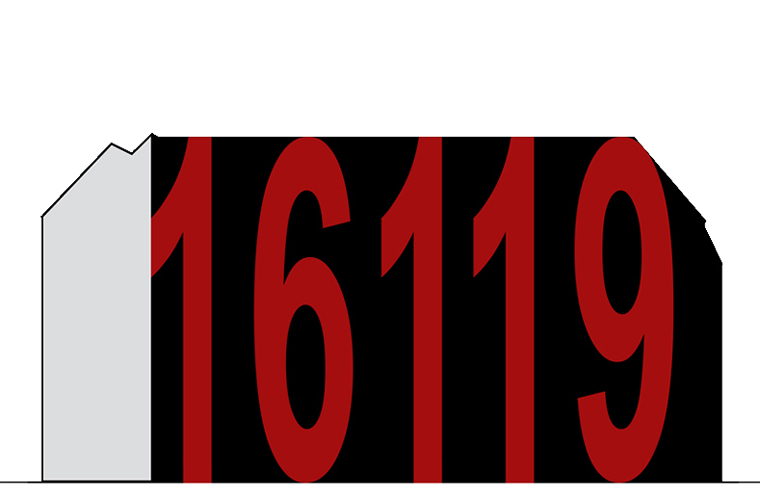 back to works
Title: 16119 (work in progress)
Year: 2007
Dimensions: installation dimensions variable
Finalist Diesel Wall Copenhagen 2007
16119 is the number of species of animals and plants threatened in the world. The publication in Geneva of 2006 Red List by IUCN(The World Conservation Union) updates us on the dramatic present situation. This work wants to signal with force the report of that documentation. The number 16119 is painted on the wall of this building and put on the web all day long by one webcam for keep up the attention and reaffirm the necessity to find solutions of one fundamental problem of our society today.
Technical description
To realize the work use exterior paint tempera in red and black colours.
All the surface of the wall put at disposal for realize the installation, will have to distemper with exterior paint in black colour, the number 16119 will have to paint in red. For the choice of the red colour to use, make reference to PANTONE 1805 C colour.
Put in front of the work one web cam on line all day long on the web.
Título: 16119 (work in progress)
Año: 2007
Dimensiones: installación dimensiones variables
Finalista Diesel Wall Copenhagen 2007
16119 es el número de las especies animales y vegetales en peligro en el mundo. La publicación en Ginebra de la Red List 2006 por parte de la IUCN (World Conservation Union) nos actualiza sobre la dramática situación. Este trabajo quiere señalizar con fuerza el informe de esta documentación.
El numero 16119 está pintado sobre la pared de este edificio y puesto en la red 24 horas diarias por medio de una webcam, para llamar la atención y corroborar la necesidad de encontrar soluciones por uno de los problemas fundamentales de nuestra sociedad.

Descripción tecnica
Para realizar la obra utilizar témpera de uso externo de colores rojo y negro.
Toda la superficie de la pared puesta a disposición por realizar la instalación, tendrá que ser pintada con témpera de colore negro, el numero 16119 tendrá que ser pintado en rojo. Por la elección de la barniz roja, tener como referencia el color PANTONE 1805 C.
Poner en frente de la obra una cámara web conectada 24 horas al día en la web.
Titolo: 16119 (work in progress)
Finalista Diesel Wall Copenhagen 2007
16119 è il numero delle specie animali e vegetali a rischio nel mondo. La pubblicazione a Ginevra della Red List 2006 da parte della IUCN (World Conservation Union) ci aggiorna sulla drammatica situazione attuale. Questo lavoro vuole segnalare con forza il resoconto di questa documentazione.
Il numero 16119 è dipinto sul muro di questo edificio e messo in rete 24 h al giorno da 1 webcam per mantenere viva l'attenzione e ribadire la necessità di trovare soluzioni su uno dei problemi fondamentali della nostra società
Descrizione tecnica
Per realizzare il lavoro utilizzare vernice a tempera da esterno di colore rosso e nero.
Tutta la superficie del muro messa a disposizione per eseguire l'installazione, dovrà essere dipinta con vernice a tempera da esterno di colore nero, il numero 16119 dovrà essere dipinto in rosso. Per la scelta del colore rosso da utilizzare tener come riferimento il colore PANTONE 1805 C.
Posizionare di fronte al lavoro una web cam in linea 24 h al giorno sul web
back to works