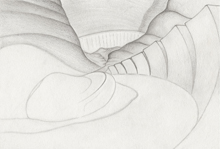 italiano -- english -- español
Unlikely Landscapes – Structures
Il paesaggio è una componente che si ripresenta costantemente nel mio lavoro artistico. Da circa un anno sto lavorando al mio nuovo progetto Unlikely Landscapes, questa immagine che presento è parte di un gruppo di opere denominate Structures. Gli elementi che la compongono sono semplici ed essenziali, forme plastiche che in qualche modo suggeriscono una tridimensionalità dinamica e linee compositive che invitano ad inoltrarci in un percorso-viaggio nell'immaginario. La composizione prospettica delle strutture "tridimensionali" che delimitano e definiscono il cammino al contempo indicano anche armonia e musicalità, una cadenza ritmata di note che accompagnano verso una meta che non è definita ma di cui si percepisce la presenza.
È un paesaggio in parte surreale, con presenza di contenuti simbolici, ciononostante resta una composizione in cui ci riconosciamo, un luogo dove potremmo decidere di avventurarci per conoscere nuove armonie o forse incontrare barriere invalicabili. Un percorso che sembra suggerire la presenza di luoghi non comuni che potrebbero stimolare la nostra curiosità estetica.
La rappresentazione del paesaggio nella serie Unlikely Landscapes, può essere assimilata anche come una esperienza dinamica, quasi fisica, in alcune opere ci predispone al viaggio interiore alla ricerca di archetipi che alludono alla carne, in altre la meta finale è l'Incanto, il luogo fisico e mentale dove tutto diventa reale.
In Unlikely Landscapes sono presenti molteplici linguaggi e medium che in sinergia danno origine a un contesto dove etica, immaginazione e concettualità si supportano reciprocamente. I lavori di Unlikely Landscapes si contaminano, interagiscono e non sempre la loro visione ha un punto di osservazione definito.
Alcuni punti chiave di questa ricerca possono essere così sintetizzati:
Ricerca minimalista sulle sinergie estetiche, convergenze e nuove tecnologie applicate all'arte tradizionale. Punti di osservazione e slittamento della percezione, interazioni tra medium, design, fotografia, antropologia del fantastico e nuove espressioni del surrealismo. Futuri possibili, dialogo tra spazialità, arte, sentimento poetico tradotto in segno, ritmo e musicalità delle strutture compositive. Realtà oggettiva e realtà fantastica/onirica. Estetica del tutto è concesso e ricostruzione di valori connessi e rielaborati nella tradizione dell'arte.
Attualmente Unlikely Landscapes è composto da 75 opere con caratteristiche e percorsi tematici differenti: Animals, Big Boobs, Fangs, Landscapes, Shining Lake, Structures, Tornados, Abstract caramelized.
back to texts
Unlikely Landscapes – Structures
Landscape is a component that constantly recurs in my artistic work. For about a year I have been working on a new series of works / installations which I have titled Unlikely Landscapes.
This image is part of a group called Structures, the elements that compose it are simple and essential, plastic forms that somehow suggest a dynamic three-dimensionality and compositional lines that invite us to go on a route-journey in the imaginary.
The perspective composition of the three-dimensional structures that delimit and define the path at the same time also indicate harmony and musicality, a rhythmic cadence of notes that accompany towards a destination that is not defined but whose presence is perceived.
It is a partly surreal landscape, with the presence of symbolic contents, nevertheless it remains a composition in which we recognize ourselves, a place where we could decide to set out to discover new harmonies or meet insurmountable barriers. A path that seems to suggest the presence of uncommon places that could stimulate our aesthetic curiosity.
The representation of the landscape can also be assimilated as a dynamic, almost physical experience, in other cases it predisposes us to the inner journey in search of archetypes that allude to the flesh and in still others the final destination is the Enchantment, the physical and mental place where everything becomes real.
In Unlikely Landscapes there are a multiplicity of languages and mediums that in synergy give rise to a context where ethics, imagination and conceptuality mutually support each other.
Some key points of this research can be summarized as follows:
Minimalist research on aesthetic synergies, convergences and new technologies applied to traditional art. Points of observation and shift of perception, interactions between mediums, design, photography, anthropology of the fantastic and new expressions of surrealism. Possible futures, dialogue between spatiality, art, poetic sentiment translated into sign, rhythm and musicality of the compositional structures. Objective reality and fantastic / dream reality. Aesthetics of "everything is allowed" and reconstruction of connected and reworked values in the tradition of art.
Currently Unlikely Landscapes is composed of 75 works with different characteristics and thematic paths: Animals, Big Boobs, Fangs, Landscapes, Shining Lake, Structures, Tornados, Abstract caramelized.
back to texts
Unlikely Landscapes – Structures
El paisaje es un componente que se repite constantemente en mi trabajo artístico. Desde hace un año estoy trabajando en mi nuevo proyecto de Paisajes inverosímiles, esta imagen que les presento es parte de un grupo de trabajos llamado Estructuras. Los elementos que lo componen son simples y esenciales, formas plásticas que de alguna manera sugieren una tridimensionalidad dinámica y líneas compositivas que invitan a emprender un viaje-ruta hacia la imaginación. La composición en perspectiva de las estructuras "tridimensionales" que delimitan y definen el camino al mismo tiempo también indican armonía y musicalidad, una cadencia rítmica de notas que acompañan hacia un destino no definido pero cuya presencia se percibe.
Es un paisaje en parte surrealista, con presencia de contenidos simbólicos, sin embargo sigue siendo una composición en la que nos reconocemos, un lugar donde podríamos decidir aventurarnos para conocer nuevas armonías o quizás encontrar barreras infranqueables. Un camino que parece sugerir la presencia de lugares insólitos que podrían estimular nuestra curiosidad estética.
La representación del paisaje en la serie Paisajes inverosímiles también se puede asimilar como una experiencia dinámica, casi física, en algunas obras nos predispone al viaje interior en busca de arquetipos que aluden a la carne, en otras el destino final es el Encantamiento, el lugar físico y mental donde todo se vuelve real.
En Paisajes inverosímiles existen múltiples lenguajes y medios que en sinergia dan lugar a un contexto donde la ética, la imaginación y la conceptualidad se apoyan mutuamente. Las obras de Paisajes inverosímiles se contaminan, interactúan y su visión no siempre tiene un punto de observación definido.
Algunos puntos clave de esta investigación se pueden resumir de la siguiente manera:
Investigación minimalista sobre sinergias estéticas, convergencias y nuevas tecnologías aplicadas al arte tradicional. Puntos de observación y cambio de percepción, interacciones entre medios, diseño, fotografía, antropología de lo fantástico y nuevas expresiones del surrealismo. Futuros posibles, diálogo entre espacialidad, arte, sentimiento poético traducido en signo, ritmo y musicalidad de las estructuras compositivas. Realidad objetiva y realidad fantástica / onírica. Estética de "todo está permitido" y reconstrucción de valores conectados y reelaborados en la tradición del arte.
Actualmente Paisajes inverosímiles se compone de 75 obras con diferentes características y recorridos temáticos: Animales, Pechos grandes, Colmillos, Paisajes, Lago resplandeciente, Estructuras, Tornados, Abstracto caramelizado.
back to texts