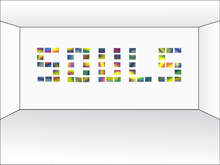 english -- español -- italiano
SOULS 2 is a proposal to stimulate the viewer to activate its capacity for self-analysis in the form of color.
The meaning expressed by the word SOULS, used in conjunction with the evocative power of the individual photographs (digital entities idealized of souls that reveal their nature in a variety of ranges of colors and shapes) become the cathartic elements that urge us towards a process of identification, pushing us to look in the photos our nature, comparing, ideally superimponing us, looking for our place, our space within the word–image SOULS.
This process of identification with the image creates in us the need to perform an inside check, to contemplate and to identify our individual chromaticity, taking a mental picture of ourselves where recognize us compatible with the internal characteristics translated into palettes that characterize each individual and confirm us that are an integral part of a community of souls.
back to texts
SOULS 2 es una propuesta para estimular el observador a activar sus propias capacidades de auto análisis en forma cromática.
El significado expresado por la palabra SOULS, utilizado conjuntamente con la capacidad evocadora de las imágenes fotográficas (entidades digitales idealizadas de almas que desvelan sus naturaleza en una multiplicidad de gamas de colores y formas) se convierten en los elementos catárticos que nos solicitan un proceso de identificación, empujándonos a buscar en las imágenes fotográficas nuestra naturaleza, comparándonos, sobreponiéndonos idealmente, tratando de conseguir nuestra colocación, nuestro espacio al interior de la palabra–imagen SOULS.
Este proceso de identificación con la imagen genera en nosotros la necesidad de efectuar una averiguación interior, de contemplar e identificar nuestra cromaticidad individual, tomando una fotografía mental de nosotros mismos donde reconocernos compatibles con aquellas características interiores traducibles en gamas de colores que marcan cada individuo e que nos confirman ser partes integrantes de una colectividad de almas.
back to texts
SOULS 2 è una proposta per stimolare l'osservatore ad attivare le proprie capacità di autoanalisi in forma cromatica.
Il significato espresso dalla parola SOULS, utilizzato congiuntamente alla capacità evocativa delle singole immagini fotografiche (entità digitali idealizzate di anime che svelano la loro natura in una molteplicità di gamme di colori e forme) diventano gli elementi catartici che ci sollecitano verso un processo di identificazione, spingendoci a ricercare nelle immagini fotografiche la nostra natura, confrontandoci, sovrapponendoci idealmente, cercando una nostra collocazione un nostro spazio all'interno della parola–immagine SOULS.
Questo processo di identificazione con l'immagine genera in noi la necessità di eseguire una verifica interiore, di contemplare e identificare la nostra cromaticità individuale, scattando una fotografia mentale di noi stessi dove riconoscerci compatibili con quelle caratteristiche interiori traducibili in gamme di colori che contraddistinguono ogni individuo e che ci confermano di essere parte integrante di una collettività di anime.
back to texts