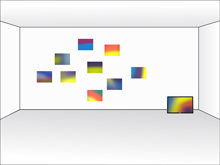 english -- español -- italiano
Souls explain itself in the perceptive "magnetism" enjoyed by the observer.
A record of light-color that produces empathy, a consequence of a prolonged retinal visualization perceived in arrhythmic succession. The viewer is not subject to a hypnotic alteration, but is urged (in a condition of apparent perceptive apathy) to activate its internal reactive capacity, to proceed in synergy with the changing path present in the structure of the video.
Essence light and color are constants elements that repeat to emphasize the minimal condition of the video sequence. The presence of significant nuances, highlights the nature of souls, reflects their quality in a swirling dynamic message, where there are no conditions for the mnemonic assimilation of a single specific image, forcing us to a total consideration.
back to texts
Souls se explica en la "magneticidad" perceptiva fruida por el observador.
Es una grabación de luz color que produce empatía, consecuencia de una prolongada visualización retiniana percibida en sucesión arrítmica. El espectador no está sometido a una alteración hipnótica, sino está solicitado (en una aparente condición de apatía perceptiva) a activar sus capacidades reactivas interiores, así que procede en sinergia con el mudable recorrido presente en la estructura del vídeo.
Esencia luz y color, son los elementos constantes que se repiten por subrayar la condición mínimal de la secuencia vídeo. La presencia de matices significantes, evidencia la naturaleza de las almas, refleja sus calidades en un vertiginoso mensaje dinámico, donde no existen condiciones por la asimilación mnemónica de cada imagen específica, obligándonos a una consideración conjunta de todas las imágenes.
back to texts
Souls si esplica nella "magneticità" percettiva fruita dall'osservatore.
È una registrazione di luce colore che produce empatia, conseguenza di una prolungata visualizzazione retinica percepita in successione aritmica. Lo spettatore non è soggetto a una alterazione ipnotica, ma è sollecitato (in una apparente condizione di apatia percettiva) ad attivare le proprie capacità reattive interne, così da procedere in sinergia con il mutevole percorso presente nella struttura del video.
Essenza luce e colore, sono gli elementi costanti che si ripetono per sottolineare la condizione minimale della sequenza video. La presenza di sfumature significanti, evidenzia la natura delle anime, riflette la loro qualità in un vorticoso messaggio dinamico, dove non sussistono condizioni per l'assimilazione mnemonica di una singola immagine specifica, obbligandoci a una considerazione d'insieme.
back to texts