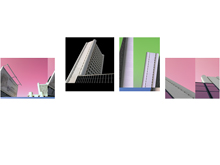 english -- español -- italiano
expresión ordenador – rompiendo simetrías
For the construction of this polyptych we used images of buildings designed by the architect Kenzo Tange.
Every image that constitutes the polyptych is the result of fragmentation and the shift of the image itself, as if it doesn't possess a defined temporal and spacial location, passing in a "other" dimension where colors and equilibrium have different rules.
back to texts
expresión ordenador – rompiendo simetrías
Para la construcción de este políptico hemos utilizado imágenes de edificios diseñados por el arquitecto Kenzo Tange.
Cada una de las imágenes que constituyen el políptico es el resultado de la fragmentación y del desplazamiento de una misma imagen, como si la fotografía no tuviera una ubicación temporal definida ni en el espacio ni en el tiempo y pasa en una dimensión "otra" donde colores y equilibrio tienen reglas diferentes.
back to texts
expresión ordenador – rompiendo simetrías
Per la costruzione di questo polittico abbiamo utilizzato immagini di edifici progettati dall'architetto Kenzo Tange.
Ognuna delle immagini che costituiscono il polittico è il risultato della frammentazione e spostamento dell'immagine stessa, come se questa non possedesse una collocazione temporale e spaziale definita, passando in una dimensione "altra" dove colori e equilibrio hanno regole diverse.
back to texts