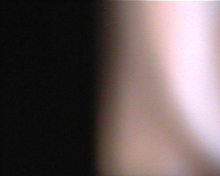 italiano -- english -- español
È ancora il corpo il tema prescelto e utilizzato per sviluppare la ricerca sull'illusione e sull'inganno. In questo caso le immagini proposte (a differenza di Body Illusion, dove la corposità della finta carne si dissolve in una immatericità percettiva mentale) producono autoreferenziandosi, una presenza illegittima espressa da un equivoco cercato, che si propone di essere assunta come definizione del reale ("corpo"), in virtù delle sue qualità descrittive. Colori, volumi, senso di profondità evidenziato dalla presenza oscura del fondo: è tramite questi input fondamentali che l'immagine utilizza se stessa come segnale di confusione percettiva, giocando su una illusoria presenza plastica, per potere affermare la propria determinazione corporea in modo inequivocabile.
"IO SONO CORPO E LO DIMOSTRO PERCHE' MI GUARDI E MI VEDI COME CORPO"
Su questo assunto l'immagine si sposta lateralmente per fare respirare il buio. Si offre disponibile, propone se stessa in un equilibrio composito, alla ricerca di un consenso estetico finalizzato a eludere ogni tipo di diffidenza percettiva. È un'immagine che mette fretta e si propone di essere colta senza indugio, esponendo contestualmente aspetti e richiami a una classicità estetica che induce a una riflessione critica: perché Caravaggio, Bacon, Rothko?
Non stiamo più valutando se l'immagine è credibile, ora valutiamo se è lecito abusarne o se la sua artisticità la tutela dal nostro voyeurismo. Questa considerazione legittima l'immagine procurandole una sua "ingannevole" esistenzialità, fornendola di una presenza etica originata da una distorsione percettiva.
Le immagini di body illusion + black sono state eseguite con snap shot da telecamera digitale. Non sono state operate né elaborazioni digitali ne tagli di inquadratura.

Come per Body Illusion, le immagini riprodotte non sono scattate a un corpo umano.
felix dario ruggeri
back to texts
Once again the body is the chosen theme in order to develop a research on illusion and deception. In this case the proposed images are self referential, thus producing an illegitimate presence, expressed through a deliberate ambiguity (as opposed to "body illusion", where the fake flesh's density fades away in a mental perceptive immateriality). This illegitimate presence aims to be assumed as a proper definition of reality ("body"), in virtue of its descriptive qualities. Colours, volumes, a depth of field sensation highlighted by the obscure presence of the background: it's through these fundamental inputs that the image uses itself as a sign of perceptive confusion, creating an illusory plastic presence, in order to clearly assert its corporeal determination.
"I AM BODY AND I PROVE IT BECAUSE YOU LOOK AT ME AND YOU SEE A BODY"
It's over this assumption that the image moves itself aside to let the darkness breath. It makes itself available, it sets itself in a composite equilibrium, trying to reach an aesthetical consent which would elude every kind of perceptive suspiciousness. It's an image that puts you in a hurry, that wants to be grasped right away; it contextually shows aspects of and references to an aesthetical classicism which leads to a critical reflection: why Caravaggio, Bacon, Rothko?
We're no longer deciding whether the image is credible or not; now we are wondering if it is right to abuse it, or if its artistic qualities protect it from our voyeurism. This consideration legitimates the image by providing it with a "deceitful" existence and giving it an ethical presence created by a perceptive distortion
The images in body illusion + black were taken with a digital camera. The image has not been altered, cut, nor elaborated digitally.

As in body illusion, there are no shots of human bodies.
felix dario ruggeri
back to texts
Es todavía el cuerpo el tema escogido y utilizado para desarrollar la búsqueda sobre la ilusión y el engaño. En este caso las imágenes propuestas (a diferencia de Body Illusion, donde la corporeidad de la falsa carne se disuelve en una inmaterialidad perceptiva mental) producen una presencia ilegítima expresada por un equívoco buscado, que se propone de ser asumida como definición de lo real ("cuerpo"), en virtud de sus calidades descriptivas. Colores, volúmenes, sentido de profundidad evidenciado por la presencia obscura del fondo: es por medio de estos input fundamentales que la imagen utiliza a si misma como señal de confusión perceptiva, jugando sobre una ilusoria presencia plástica, para poder afirmar su determinación corpórea en modo inequívoco.
"YO SOY CUERPO Y LO DEMONSTRO PORQUE ME MIRAS Y ME VES COMO CUERPO" .
Sobre esta tesis la imagen se desplaza lateralmente por hacer respirar la oscuridad. Se ofrece disponible, propone sí misma en un equilibrio compuesto, en busca de un consentimiento estético finalizado a eludir cada difidencia perceptiva. Es una imagen que da prisa y se propone de ser cogida sin demora, exponiendo contextualmente aspectos y referencias a una clasicidad estética que induce a una reflexión crítica: porque Caravaggio, Bacon, Rothko?
No estamos más valorando si la imagen es creíble, ahora evaluamos si es lícito abusar de ella o si su artisticidad la defiende de nuestro voyeurismo. Esta consideración legitima la imagen procurándole una "engañosa" existencialidad, dotándola de una presencia ética originada por una distorsión perceptiva.
Las imágenes de body illusion + black han sido realizadas con snap shot de telecámara digital. No han sido efectuados ni elaboraciones digitales ni cortes de enfoque.
Como en Body Illusion, las imágenes reproducidas no han sido sacadas a un cuerpo humano.
felix dario ruggeri
back to texts