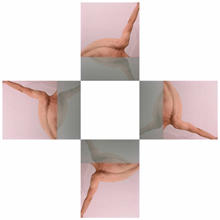 english -- español -- italiano
The Body 360° project stems from the need to define through the body latent universal qualities in each individual. In the images you perceive a predominance of gray and in the eyes of the observer seems to remain a hidden memory/ origin, an absence of color combined with bidimensionality that indicates the current difficulty to pursue an inner path, a widespread malaise that we can observe reflected in the social ethics of all the big industrial cities.
The project intends to emphasize the necessity to communicate with the deepest part of our body prodding us for introspection, using body as a doorway for spirit movements.
They are minimal images, superfluous is removed, but this minimality doesn't preclude the poetry of image. It' a body that fly, meditate, reflect on himself, hide and at the same time show himself at 360 degrees. It's a body iceberg, under his surface you can perceive the presence of soul. The images are built to portray simultaneously both physicality and internal essence of the subject.
back to texts
Il progetto Body 360° nasce dall'esigenza di definire attraverso il corpo qualità universali latenti in ogni individuo. Nelle immagini si percepisce una predominanza dei grigi e negli occhi dell'osservatore sembra permanere una memoria/origine occultata, una assenza del colore unita alla bidimensionalità che ci segnala l'attuale difficoltà per perseguire un percorso interiore, un malessere diffuso che possiamo osservare riflesso nell'etica sociale di tutte le grandi città industriali.
Il progetto si propone di sottolineare la necessità di comunicare con la parte più profonda del nostro corpo sollecitandoci all'introspezione, utilizzando il corpo come una possibile porta di accesso per i movimenti dello spirito.
Sono immagini minimali, il superfluo è eliminato, ma questa minimalità non preclude la poesia dell'immagine. È un corpo che vola, che medita, che riflette su se stesso, si nasconde e allo stesso tempo si mostra a 360 gradi. È un corpo iceberg, sotto alla sua superficie si percepisce la presenza dell'anima. Le immagini sono costruite per ritrarre contemporaneamente sia la fisicità che l'essenza interiore del soggetto.
back to texts
En Body 360° se entienden definir a través del cuerpo cualidades universales latentes en cada individuo. Las imágenes tienen la predominancia de gris, en los ojos parece permanecer como origen una ausencia del color junto a la bidimensionalidad, nos destacan síntomas de la actual dificultad para una mirada interior, lo mismo que reflejan las grandes ciudades industriales.
Este trabajo se propone señalizar la necesidad de comunicar con la parte más profunda de nuestro cuerpo solicitándonos la introspección, utilizando el cuerpo como una posible puerta de acceso por los movimientos del espíritu.
Son imágenes minimales, el superfluo ha sido eliminado, pero esta minimalidad no impide la poesía de la imagen. Es un cuerpo que vuela, que medita, que reflexiona sobre sí mismo, se esconde y al mismo tiempo se muestra a 360 grados. Es un cuerpo iceberg, bajo de su superficie se percibe la presencia del alma. Las imágenes son construidas para retratar contemporáneamente tanto lo físico como la esencia interior del sujeto.
back to texts