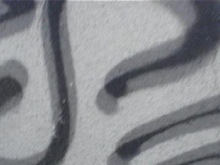 english -- español -- italiano
Ascent is the recording of a journey, in the absence of preliminary remarks which justify the necessity of its carrying out.
It's a videoclip to be used as a key of access; acquiring it one's introspective communication is favoured and made easy.
It stimulates a meditation on the connections between our inward spirituality and our external objective condition.
The quality of whole growing of being (as spiritual as organic) and, consequently, the quality of social interactiveness is due to the actual ability of a person in accomplishing his/her own functional inside communicative way.
This videoclip is the description of an ascent without asking oneself the reason of it.
It is a running, in progress, through the reality of today again, without avoiding our unsolved inner aspect, which distinguish and always are with man's evolving desire.
It's reading is conditioned by noticeable uneasiness, as the images follow one another with no references, but a disjointed and fragmentary perception of words, that could be understood as an acquired value in their total perception.
As it is shown by this "graffito (the real painting filmed in Ascent), the generation being-disease is stressed by the unsteady way of shooting; the impossible detailed focusing; the wave rhythm of the stepping spitted up by the horizontal breaks, which are too short to let the watcher's retina re-establish a balanced reception; the obsessing repeat (loop) of the increasing projection.
In a discordant tolerance, the sound of nature sets itself against and live together this sense of physical discomfort and bodily pain felt as mirror of everyday reality, while the increasing climbing of Ascent leads to a more and more prevailing presence of technological noise.
The achievement of the last step is our unsolved historical presence which can't understand what is beyond the limit of our nature.
back to texts
Ascent es la grabación de un recorrido en ausencia de una premisa que ne justifique la necesidad de realización.
Es un vídeo que puede ser utilizado para favorecer la comunicación introspectiva. Una clave de acceso para estimular la reflexión sobre los vínculos que existen entre espiritualidad interior y condición objetiva externa.
Desde la capacidad de realizar una forma de comunicación interior depende el crecimiento total, orgánico y espiritual del individuo y consiguientemente su calidad interactiva social.
El vídeo es la descripción de una ascensión sin ponerse la pregunta porque. Un volver a recorrer en devenir la realidad de hoy, sin huir de los aspectos interiores jamás resueltos que caracterizan y acompañan desde siempre el deseo evolutivo del hombre.
La lectura es en el signo sensible de la inadaptación. Un subseguirse de imágenes sin referencias, sino en la fragmentaria percepción de palabras, asimilables como valor adquirido en su totalidad perceptiva. El malestar generacional exprimido en el grafito es acentuado por el sentido de inestabilidad de la toma, por la imposibilidad de enfocar el detalle, por el ritmo ondulatorio de la andadura fragmentada por pausas horizontales, tan breves que no permiten a la retina de restablecer un equilibrio receptivo, por la repetición obsesiva (en bucle) de la proyección continua. A esta sensación de malestar físico, vivido como espejo del cotidiano, se contrapone y convive en tolerancia discordante el sonido de la naturaleza, mientras la progresiva subida lleva a una más predominante existencia tecnológica.
El logro del último peldaño es nuestra presencia histórica no resuelta de asimilar el más allá.
back to texts
Ascent è la registrazione di un percorso in assenza di una premessa che ne giustifichi la necessità di realizzazione.
È un video che può essere utilizzato per favorire la comunicazione introspettiva. Una chiave di accesso per stimolare la riflessione sui legami che intercorrono tra spiritualità interiore e condizione oggettiva esterna.
Dalla capacità di realizzare una forma di comunicazione interna dipende la crescita totale dell'essere, organica e spirituale, e conseguentemente la sua qualità interattiva sociale.
Il video è la descrizione di una ascesa senza porsi la domanda perché. Un ripercorrere in divenire la realtà dell'oggi, senza sfuggire gli aspetti interiori mai risolti che caratterizzano e accompagnano da sempre il desiderio evolutivo nell'uomo.
La lettura è nel segno sensibile del disagio. Un susseguirsi di immagini senza riferimenti, se non nella frammentaria percezione di parole, assimilabili come valore acquisito nella loro totalità percettiva. Il malessere generazionale espresso nel graffito è accentuato dal senso di instabilità della ripresa, dalla impossibilità di focalizzare il particolare, dal ritmo ondulatorio dell'incedere frammentato da pause orizzontali, così brevi da non permettere alla retina di ristabilire un equilibrio ricettivo, dalla ripetizione ossessiva (loop) della proiezione continua. A questo senso di malessere fisico, vissuto come specchio del quotidiano, si contrappone e convive in tolleranza disarmonica il suono della natura, mentre la progressiva salita porta a una sempre più predominante esistenza tecnologica.
Il raggiungimento dell'ultimo gradino è la nostra presenza storica non risolta di assimilare l'oltre.
back to texts