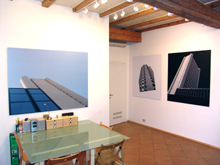 english -- español -- italiano
"the vacuity lingers over the buildings
ecstasy of the unperceivable
deviances in the absolute circular balance"
In this case the "mental architectures", highlighted with the use of digital interventions, support and amplify the structural and conceptual quality of the photographic image.
The digital processing of buildings is a clear provocation, the pretext game of a condition that would not be applicable to everyday reality, but useful and suitable as an aesthetic enhancement of photographic reality.
The "mental architectures" overlap as an added value to the images of functionality expressed by the structures photographed. A fusion architecture, mutant, in the making and an end in itself, which uses images strongly representative of both the primary needs and the industriousness of man, to propose itself as a project of aesthetic abstraction. Bridges and scaffolding as a further possibility of reflection, which from the functionality of the useful lead us with tools and schemes typical of planning, to shift our interest along a path which has as a consequence the verification of our condition with that immanent-transcendent component that permeates the existence and not of things.

felix
back to texts
"el vacío persiste en los edificios
éxtasis de lo imperceptible
desviaciones en el absoluto equilibrio circular"
En este caso las "arquitecturas mentales", destacadas con el uso de intervenciones digitales, apoyan y amplifican la calidad estructural y conceptual de la imagen fotográfica.
El procesamiento digital de edificios es una clara provocación, el juego de pretexto de una condición que no sería aplicable a la realidad cotidiana, pero útil y adecuada como realce estético de la realidad fotográfica.
Las "arquitecturas mentales" se superponen como valor agregado a las imágenes de funcionalidad expresadas por las estructuras fotografiadas. Una arquitectura de fusión, mutante, en proceso y fin en sí misma, que utiliza imágenes fuertemente representativas tanto de las necesidades primarias como de la laboriosidad del hombre, para proponerse como un proyecto de abstracción estética. Puentes y andamios como una posibilidad más de reflexión, que desde la funcionalidad de lo útil nos conducen con herramientas y esquemas propios de la planificación, a trasladar nuestro interés por un camino que tiene como consecuencia la verificación de nuestra condición con ese componente inmanente-trascendente que impregna la existencia y no de las cosas..

felix
back to texts
"la vacuità indugia sugli edifici
estasi dell'impercettibile
devianze nell'assoluto equilibrio circolare"
In questo caso le "architetture mentali ", evidenziate con l'utilizzo di interventi digitali, sostengono e amplificano la qualità strutturale e concettuale dell'immagine fotografica.
L'elaborazione digitale degli edifici è una palese provocazione, il gioco pretesto di una condizione che non sarebbe applicabile alla realtà quotidiana, ma utile e idonea come valorizzazione estetica della realtà fotografica.
Le "architetture mentali" si sovrappongono quale valore aggiunto alle immagini di funzionalità espresse dalle strutture fotografate. Una architettura fusion, mutante, in divenire e fine a se stessa, che utilizza immagini fortemente rappresentative sia delle esigenze primarie che della operatività dell'uomo per proporsi come un progetto di astrazione estetica. Ponti e impalcature come ulteriore possibilità di riflessione, che dalla funzionalità dell'utile ci conducono con strumenti e schemi propri della progettualità, a spostare il nostro interesse lungo un percorso che ha come conseguenza la verifica della nostra condizione con quella componente immanente-trascendente che permea l'esistenza e non delle cose.

felix
back to texts