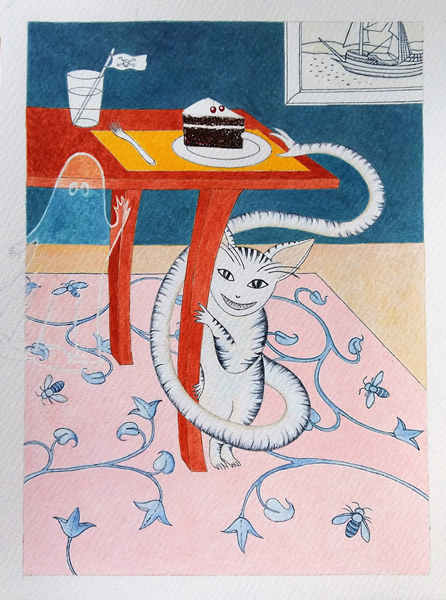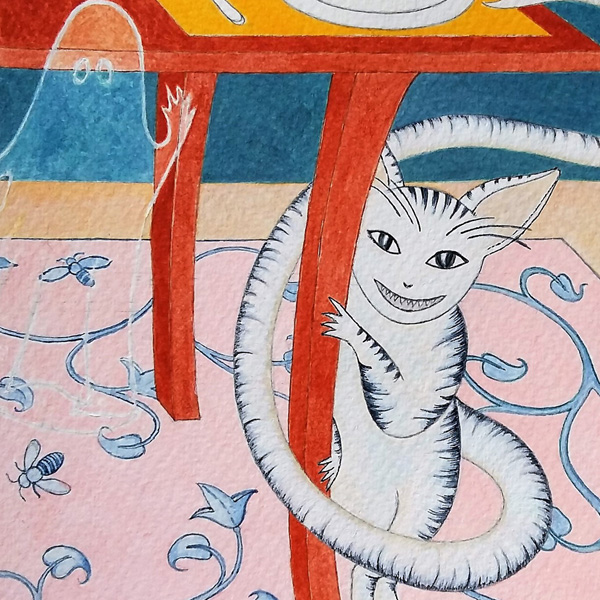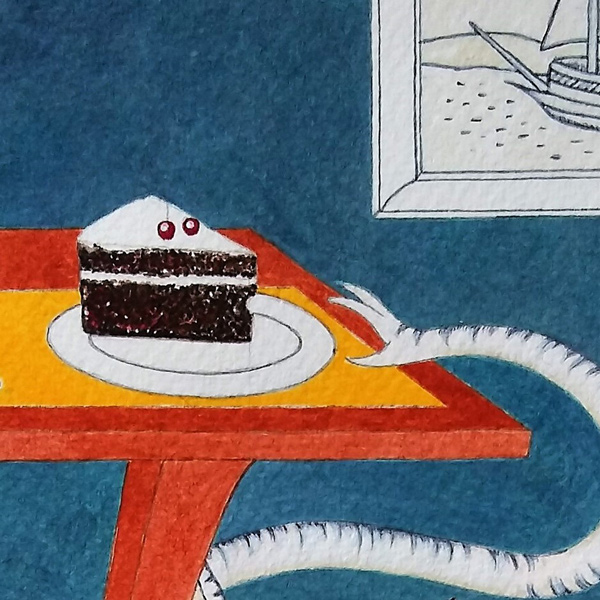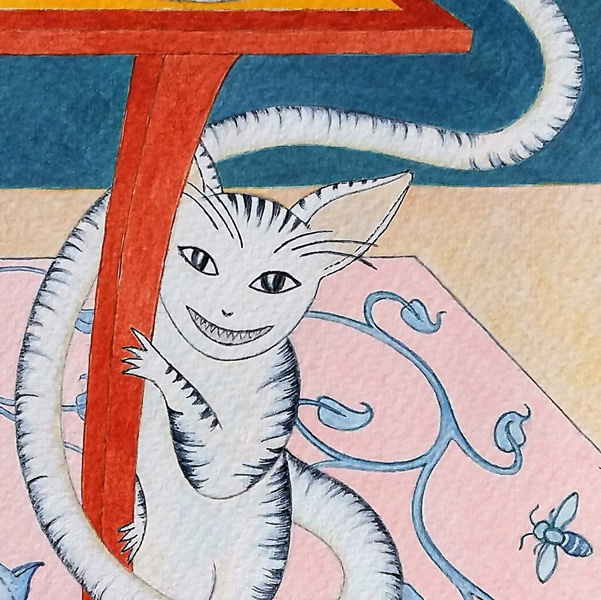 The Monster Under the Table
He's a very cute monster, but extremely hard to spot because he's shy.
He chose his habitat in the past, when the long tablecloths were fashionable and he could hide easily. Nowadays the tablecloths down to the floor are used only by Queen Elizabeth, so things have become more difficult for the monster, but fortunately he is an ingenious little fella and certainly is not discouraged by textile issues. In fact being squishy he can change the shape of his body and manages to hide perfectly behind any table leg, from those convoluted and baroque to the most minimal and thin.
His obstinacy to remain under the tables does not lie only in shyness, but responds to a much more practical reason: the monster loves sweets and has no intention of being outside the scope in which takes place his favorite activity, that is to eat cakes, biscuits and cream puffs.
This foodie and chubby monster is not dangerous, unless you make him angry. This can happen in two ways.
The first one is to buy a table with glass legs. The monster will feel uncomfortable because he can not hide, will become nervous and shake the table while you are drinking a camomile alone at home after watching The Shining, trying to convince yourself that ghosts DON'T exist. Obviously before doing this, the monster (being very well-mannered) will have asked permission from your local ghost, who always has the priority claim on shaking tables, night squeaks and door slamming.
The second way to get him angry is to put you on a diet, starting to feed yourself only on boiled broccoli and raw algae. If you are not lucky enough to have at least one family member who does not even dream of banning the custard brioches from the table, providing nourishment and comfort to the monster, he will become not only nervous but also ravenous.
Because of his shyness he can not leave the house and go to the bakery, so it will only be your fault if the monster will devour whatever lies within his reach under the table, i.e. your legs (but only from the knee down, he does not like patellas). If you do not believe that a creature so pretty can turn into a calf biter, ask Long John Silver what happened to him when he decided take up macrobiotic.
Excerpt from the notes for an essay on monstrology. Grammatical errors are due to the sudden and mysterious disappearance of the Author.
Il Mostro Sotto al Tavolo
È un mostro molto carino ma estremamente difficile da scorgere perché è timido.
Ha scelto il suo habitat nei tempi passati, quando andavano di moda le tovaglie lunghe e lui si poteva nascondere con facilità. Adesso che le tovaglie fino al pavimento le usa solo la regina Elisabetta le cose sono diventate più difficili per il mostro, ma fortunatamente lui è un tipetto ingegnoso e non si fa certo scoraggiare da questioni tessili. Infatti essendo morbidoso può cambiare la forma del proprio corpo e riesce a nascondersi perfettamente dietro a qualsiasi gamba di tavolo, da quelle arzigogolate e barocche fino a quelle più minimal e sottili.
La sua ostinazione a restare sotto i tavoli non risiede solo nella timidezza, ma risponde a una ragione ben più pratica: il mostro adora il dolci e non ha nessuna intenzione di trovarsi al di fuori dal raggio di azione nel quale si svolge la sua attività preferita, cioè mangiare torte, biscotti e bignè.
Questo mostro buongustaio e pacioccone non è pericoloso, a meno che non lo facciate arrabbiare. Questo può accadere in due modi. Il primo è comprare un tavolo con le gambe di vetro; il mostro si sentirà a disagio perché non si può nascondere, diventerà nervoso e scuoterà il tavolo mentre siete in casa soli e vi state bevendo una camomilla dopo aver visto un film del terrore, cercando di convincervi che i fantasmi NON esistono. Naturalmente prima di fare ciò il mostro, essendo molto bene educato, avrà chiesto il permesso al vostro fantasma locale, il quale ha sempre il diritto di prelazione su scuotimenti di tavoli, cigolii notturni e sbattimenti di porte.
Il secondo modo per farlo arrabbiare è mettervi a dieta, cominciando a nutrirvi solo di broccoli sconditi e alghe crude. Se non avete la fortuna di avere almeno un familiare che non si sogna minimamente di bandire le brioches alla crema, provvedendo così nutrimento e conforto al mostro, questi diventerà non solo nervoso ma anche famelico.
A causa della sua timidezza non può certo uscire e andare in pasticceria, per cui sarà solo colpa vostra se il mostro divorerà quello che gli capita a tiro sotto al tavolo ovvero le vostre gambe (ma solo dal ginocchio in giù, non gli piacciono le rotule). Se poi non credete che una creatura così carina possa trasformarsi in un azzannapolpacci, chiedete a Long John Silver cosa gli è successo quando ha deciso di darsi al macrobiotico.

The Monster Under the Table (2019)

Acrylic on paper Watercolour Fabriano – 7" x 9" ½
Acrílico sobre papel Watercolour Fabriano – 18 x 24 cm
Acrilico su carta Watercolour Fabriano – 18 x 24 cm


back to works