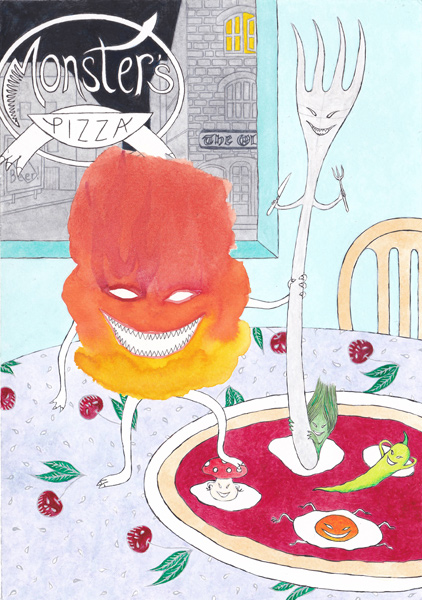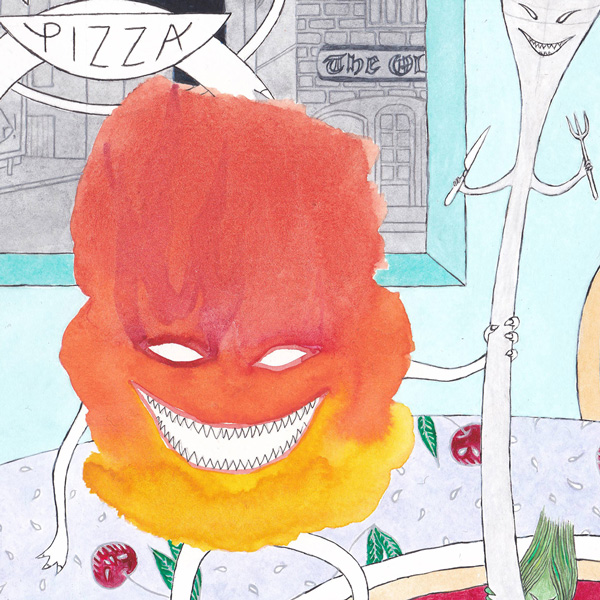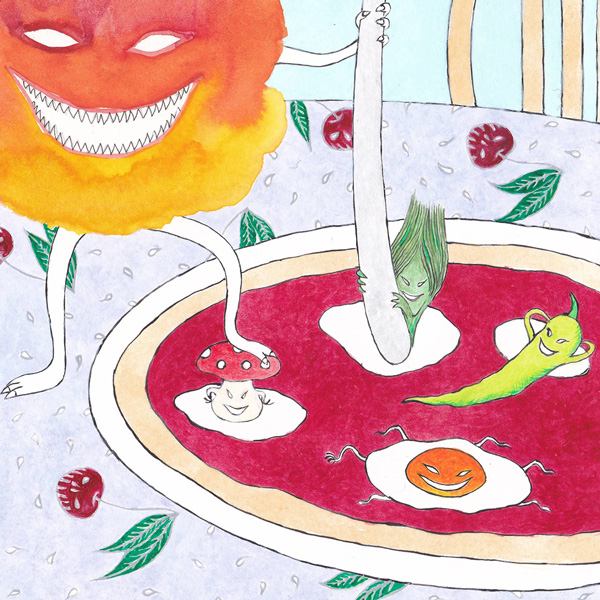 The Monster of the Pizza
He is the most dangerous monster because it is almost impossible to escape him; nevertheless the intrepid Author has pursued his research with no regard for danger and cholesterol.
After he scoffed countless pizzas (but also profiteroles, babà au rhum, puffs, tiramisu... you never know, some monster could hide in the dessert trolley, better investigate) the Author has discovered that the Monster of Pizza is made of fire and lives only in pizzerias with a wood oven.
If entering the pizzeria you see the Monster welcoming you, remember that nowaday you have other options before run screaming. Indeed he will not eat you right away as he would have done in the past; being a perfectionist in his field he attended a master's degree held by Hansel's and Gretel's witch, where he learned that before to bite into his victims he must make sure they become well-fed and plump.
So for the moment sit at the table and read this manual waiting for your Margherita.
To escape this high-in-calories monster you have various choices, depending on your temper, stoicism, and spirit of sacrifice.
Option 1: Stop eating pizza (practically impossible);
Option 2: Go eat pizza only in pizzerias with electric oven (self-destructive but feasible, If you're happy, we're happy);
Option 3: Go each evening in the pizzeria and eat until you are about to burst, then spend the night and the next day at the gym, feeding merely on water with lime in order to stay lean and therefore not appetizing to the monster (science fiction, who eats in the monster's pizzeria passes out the following hours sprawled on the couch);
Option 4: It is the most risky, so if you find yourself in the monster's oven trussed up like a roast, do not say I did not warn you. Basically, it's about stuff yourself with your favorite dishes: appetizer, salami chop, boscaiola, diavola, vivaldi, fruit salad with vanilla ice cream, tris of desserts (mascarpone, tenerina, and truffle), coffee and brandy.
When the monster, happy to see your beautiful protruding belly and your lovely chubby cheeks, will approach the table to begin a conversation (and better to cook you), he will start with the classic chef's phrase:
"Oh kind customer round as ball,
What is the best pizza of all?"
waiting for you to praise him for his cuisine. Instead, with casual indifference (and so much chutzpah) you have to answer in the most amiable tone:
"Across the fueled seventh street
Beyond the seventh mall,
In the cottage of the 7-Eleven,
Dwells Pizza's Paradise, best of them all!"
If you manage to pronounce the magic formula without even taking the toothpick out of your mouth, the monster will get so angry as to have a flashback. This will not kill him, but while he tries to douse the flames to return to his natural state of controlled combustion and avoid burning the restaurant, you can go out undisturbed and you don't even have to pay the bill.
But I warn you: prepare yourself with extreme care, practicing in the mirror and studying the ground. If you are not convincing because you do not use the right tone, or maybe because following the directions of the magic formula you do not get to a pizzeria but to a tire shop, the monster will be angry anyway but with you, and suddenly remember his passion for sushi he will eat you raw. And I would say that you deserve it.
Il Mostro della Pizza
È il mostro più pericoloso perché è quasi impossibile sfuggirgli, ciononostante l'intrepido Autore ha portato avanti le sue ricerche con sprezzo del pericolo e del colesterolo.
Dopo essersi sbafato innumerevoli pizze (ma anche profiteroles, supplì, babà al rum, sfogliatelle, tiramisù... non si sa mai, qualche mostro potrebbe celarsi nel carrello dei dolci, meglio indagare) l'Autore ha scoperto che il Mostro della Pizza è fatto di fuoco e vive solo nelle pizzerie con forno a legna.
Se entrando in pizzeria vedete il Mostro che vi accoglie sorridendo, sappiate che oggi come oggi prima di scappare a gambe levate avete altre opzioni. Infatti lui non vi mangerà subito come avrebbe fatto in passato, perchè essendo un perfezionista nel suo campo ha frequentato un master tenuto dalla strega di Hansel e Gretel dove ha imparato che prima di papparsi le sue vittime deve fare in modo che diventino ben pasciute e grassottelle. Quindi per il momento sedetevi a tavola e leggete questo manuale mentre aspettate la vostra quattro stagioni.
Per sfuggire a questo mostro ipercalorico avete varie possibilità, a seconda della vostra tempra, stoicismo e spirito di sacrificio.
Opzione 1) smettere di mangiare la pizza (praticamente impossibile);
Opzione 2) andare a mangiare la pizza solo nelle pizzerie con forno elettrico (autolesionista ma fattibile, contenti voi...);
Opzione 3) andare tutte le sere in pizzeria e mangiare a crepapanza, poi passare la notte e il giorno successivo in palestra nutrendovi solo di acqua con lime in modo da rimenere magri e ossuti quindi non appetibili per il mostro (fantascientifico, chi mangia nella pizzeria del mostro trascorre le ore seguenti spaparanzato sul divano);
Opzione 4) l'ultima possibilità è la più rischiosa, quindi se vi trovate nel forno a legna del mostro legati come un arrosto non dite che non vi ho avvisati. In pratica si tratta di magnare a quattro ganasce le vostre portate preferite: antipasto, tagliere di salumi, pizza alla boscaiola, pizza del pirata, calzone, macedonia con gelato alla crema, tris di dolci (mascarpone, tenerina, tartufo), caffè e ammazza caffè. Quando il mostro soddisfatto al vedere la vostra pancina bella tonda e il vostro facciotto rubicondo si avvicinerà al tavolo per attaccare bottone (e cucinarvi meglio) esordirà con la classica frase dello chef:
"Tondo cliente delle mie brame,
chi fa la pizza più buona del reame?"
aspettandosi che voi gli facciate le lodi per la sua cucina. Voi invece con cortese distacco (e tanta paraculaggine) rispondete nel tono più amabile:
"Nel nostro paese,
oh Mostro cortese,
il meglio sei tu.
Ma sette rotonde
se valichi in fretta
di "Pizza Celeste"
vedrai la casetta
ed ella, in mia fè
è ancor mille volte
più brava di te."
Se riuscite a pronunciare la formula magica con nonchalance senza nemmeno togliervi lo stuzzicadenti di bocca il mostro si arrabbierà tanto da avere un ritorno di fiamma. Questo non lo ucciderà, ma mentre cerca di domare le fiamme per tornare al suo stato naturale di combustione controllata ed evitare di incendiare il locale, voi potrete uscire con tutta calma e non dovrete nemmeno pagare il conto.
Vi avverto però di prepararvi con estrema cura, fate le prove allo specchio e studiate il terreno. Se non siete convincenti perchè non usate il tono giusto, o magari perché seguendo le indicazioni della formula magica non si giunge a una pizzeria ma all'officina di un gommista, il mostro si arrabbierà lo stesso ma con voi e ricordando improvvisamente la propria passione per il sushi vi mangerà crudi. E direi che ve lo meritate.

The Monster of the Pizza (2018)

Watercolour and ink on paper – 8" x 6"
Acuarela y tinta china sobre papel – 15 x 21 cm
Acquerello e china su carta – 15 x 21 cm


back to works