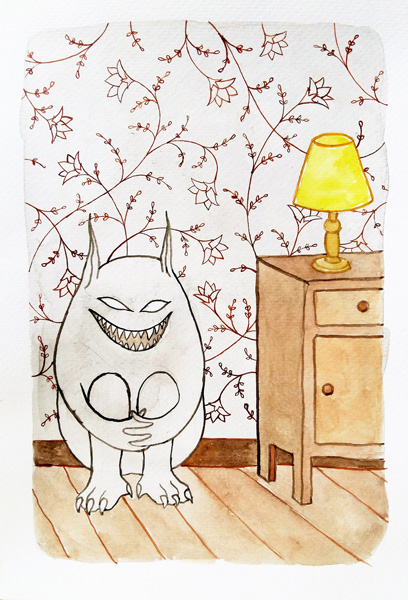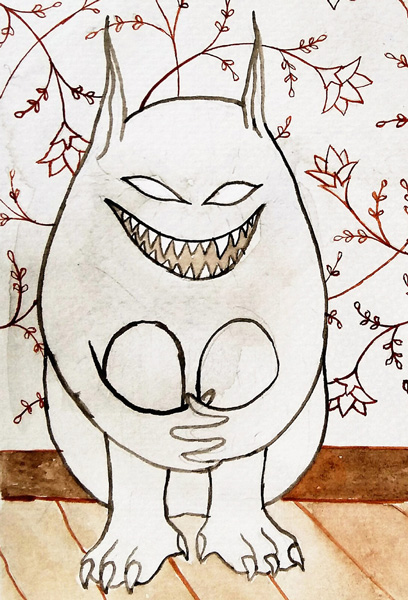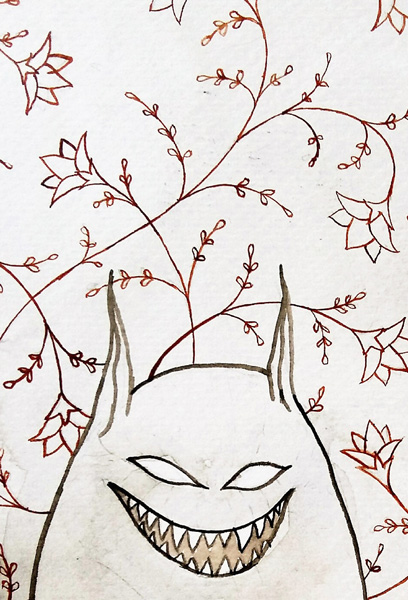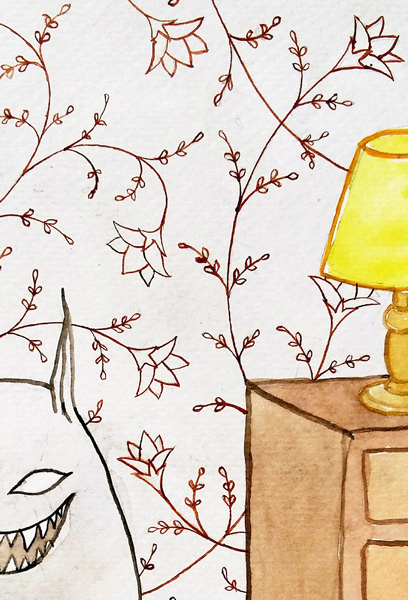 The Monster of the Bedroom
He is a true classic: the monster perhaps by far more widespread but without ever becoming ordinary. Who doesn't have their own Bedroom Monster waiting for them at home? You're saying you don't? And when do you plan to put away your rose-tinted glasses?
Evidences of his diffusion are everywhere: in 1781 the great artist Fuseli portrayed him in the famous painting Nightmare, but the Monster does not like spread the word because he claims it does not look like him at all. In more recent times, he inspired Paul McCartney's song Don't Say Goodnight Tonight.
Being around for centuries he had plenty of time to gorge, as can be seen in the snapshot, and will not eat you (for the moment). At most he will bite your big toe if you sleep with your feet out of the blanket, but he is not dangerous.
Then the concept of danger is relative, certainly he will not devour you (for the moment) but it is still a monster, we can not expect him to be harmless. He also has his idiosyncrasies, for example he loves comfortable and relaxed bedrooms, while he can't stand the modern furnishings. If by chance you have just renovated your bedroom, changing the old dear beige carpet with pink English rose with a very fashionable lead gray resin floor, the monster will feel annoyed and become nervous, so accidentally he will drop your steel and glass bedside lamp at three in the morning. When you wake up startled to the crash, you will find the monster two inches from your face smiling at you, saying with an innocent air: "Did I wake you up? I'm sorry, it must be this new floor, it's so smooth and slippery that I hit your bedside table and ended up lying on the floor... we hope this does not happen to you, since I'm immortal but you are not. "
After that he will go to sleep happy and blissful in the dark corner of the bedroom (yes, you have a dark corner in the bedroom, if you've never noticed it try to see if there is another pair of rose-tinted glasses on your nose) while you you won't sleep for a month anymore.
Another trait of him is to become attached to the furnishings. If you are considering get rid of the decrepit armchair that has been residing in your room for three generations, think again.
If you really must do it, at least look for something comfortable and soft, add a pair of fluffy cushions and a throw with a relaxing print. I would not suggest you opt for a design armchair, even if it is the original 1918 Red Blue Chair by Gerrit Rietveld you have been dreaming for a long time and you bought from Christie's for 10000 euro, convinced among other things that you have made a great deal. If when he wakes up, the Monster finds himself in front of a devilish contraption cosy like a wheelbarrow instead of HIS armchair, he will not make a scene, it is not in his style. He will pretend to approve your choice, ensconcing himself in the neoplastic horror you brought home. From that moment on, he will spend all night (and all the nights to come) twirling and sighing loudly, tapping his nails on the wooden armrest, exclaiming every five minutes: "Meh!" If you ask him what's wrong, he will answer with a heartbroken tone: "No ... nothing ..." Obviously you will not be able to sleep until you have sold your precious design object and buy back the armchair from the junk shop owner, which will be well pleased to sell you back at auction price (Christie's auction).
However, if you have already settled the interior designers before reading this manual do not worry, escaping from the monster is very simple: just go to sleep in the kitchen. The Monster of the Bedroom is so chubby and cuddly that he has no intention of stress out to chase you.
Of course you must then escape the ferocious Monster of the Pots, the terrible Monster of the Colander, the frightful Monster of the Sink, and the ... Monster of the Sink Base Cabinet (whose monstrosity is so ... that it is impossible to find an adjective). All in all, perhaps you should accept your destiny and stay in your bedroom. The Monster will annoy you to death but at least you will be comfortable and depart this life supine, which is the most suitable position for the passing away.
Excerpt from the notes for an essay on monstrology. Grammatical errors are due to the sudden and mysterious disappearance of the Author.
Il mostro della camera da letto
È un vero classico: il mostro forse più diffuso in assoluto ma senza mai diventare ordinario. Chi non ha il proprio Monster of the Bedroom che lo aspetta a casa? Come dite, voi no? E quando pensate di togliervi le fette di salame che avete sugli occhi?
Prove della sua diffusione sono ovunque: nel 1781 il grande artista Fuseli lo ha ritratto nel celeberrimo quadro Nightmare, anche se il Mostro non ama parlarne perché sostiene che non gli somiglia per niente. In tempi più recenti ha ispirato la canzone di Paul McCartney Don't Say Goodnight Tonight.
Essendo in giro da secoli, come si può notare dall'istantea, ha avuto tutto il tempo di rimpinzarsi e non vi mangerà (per il momento). Al massimo vi morderà il pollicione se dormite con i piedi fuori dalla coperta ma non è pericoloso.
Poi il concetto di pericolosità è relativo, sicuramente non vi divorerà (per il momento) ma è pur sempre un mostro, non possiamo pretendere che sia anche innocuo. Ha anche lui le sue idiosincrasie, ad esempio adora le camere da letto confortevoli e rilassate mentre non sopporta gli arredi moderni. Se per caso avete appena ristrutturato la vostra camera da letto, cambiando il tappeto beige a fiorellini rosa che aveva ricamato la prozia nel 1912 con una pavimentazione di resina color grigio piombo molto fashion, il mostro si sentirà infastidito e diventerà nervoso, quindi casualmente farà cadere sul pavimento alle tre di notte la vostra nuova lampada di metallo cromato. Quando vi sveglierete di soprassalto per lo strepito, troverete il mostro a due centimetri dalla vostra faccia che vi guarda sorridendo e vi dice con aria innocente: "Ti ho svegliato? Scusa sai, deve essere colpa di questo pavimento nuovo, è così scivoloso che mi ha fatto inciampare e ho urtato il tavolino da notte… speriamo che non capiti a te di scivolare, visto che io sono immortale ma tu no".
Dopodiche se ne andrà a dormire beato nell'angolo oscuro della camera da letto (sì che avete un angolo oscuro in camera da letto, se non ve ne siete mai accorti provate a vedere se vi è rimasta qualche fetta di salame sugli occhi) mentre voi non dormirete più per un mese.
Un'altra sua caratteristica è di affezionarsi agli arredi. Se per caso state pensando di buttare la vecchia poltrona che abita in camera vostra da tre generazioni, ripensateci. Se proprio dovete farlo almeno cercate qualcosa di confortevole e soffice, aggiungete un paio di cuscini morbidi e un plaid con una stampa rilassante. Non vi consiglio di optare per una poltrona di design, nemmeno se è la The Red Blue Chair di Gerrit Rietveld originale del 1918 che sognate da tempo e che avete acquistato da Christie's per 10.000 euro, convinti tra l'altro di avere fatto un ottimo affare. Se quando si sveglia il mostro si ritrova davanti un marchingegno comodo come una carriola al posto della SUA poltrona con le molle ammorbidite dall'uso non vi farà una scenata, non è nel suo stile. Fingerà di approvare la vostra scelta e si accomoderà sull'orrore neoplastico che avete scelto. Da quel momento in poi passerà tutta la notte (e tutte le notti) a rigirarsi sospirando rumorosamente tamburellando con le unghie sul bracciolo di legno, e ogni cinque minuti esclamerà: "Mah!". Se voi gli chiederete cosa c'è che non va lui risponderà con tono affranto: "No… niente…" Ovviamente non riuscirete a dormire finchè non avrete rivenduto il vostro prezioso oggetto di design e ricomprato la poltrona della trisnonna dal rigattiere, il quale sarà ben lieto di rivendervela a prezzo d'asta (l'asta di Christie's).
Comunque nel caso abbiate già saldato l'arredatore prima di leggere questo manuale non vi preoccupate, sfuggire dal mostro è molto semplice: basta andare a dormire in cucina. Il Monster of the Bedroom è così pigro e pacioccoso che non ha nessuna intenzione di affaticarsi per inseguirvi. Naturalmente dovrete poi sfuggire al feroce mostro delle pentole, al terribile mostro dello scolapasta, allo spaventoso mostro del lavello, e al … mostro del sottolavello (la cui mostruosità è talmente... che è impossibile trovare un aggettivo). Tutto sommato forse vi conviene accettare il vostro destino e rimanere a dormire in camera. Il mostro vi romperà le scatole a morte ma almeno starete comodi e defungerete supini, che è la posizione più indicata per il trapasso.

The Monster of the Bedroom (2018)

Watercolour and ink on paper – 8" x 6"
Acuarela y tinta china sobre papel – 15 x 21 cm
Acquerello e china su carta – 15 x 21 cm


back to works