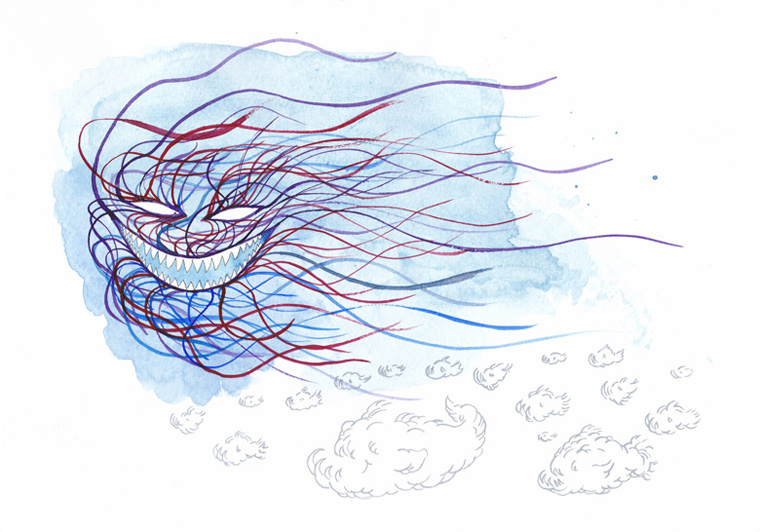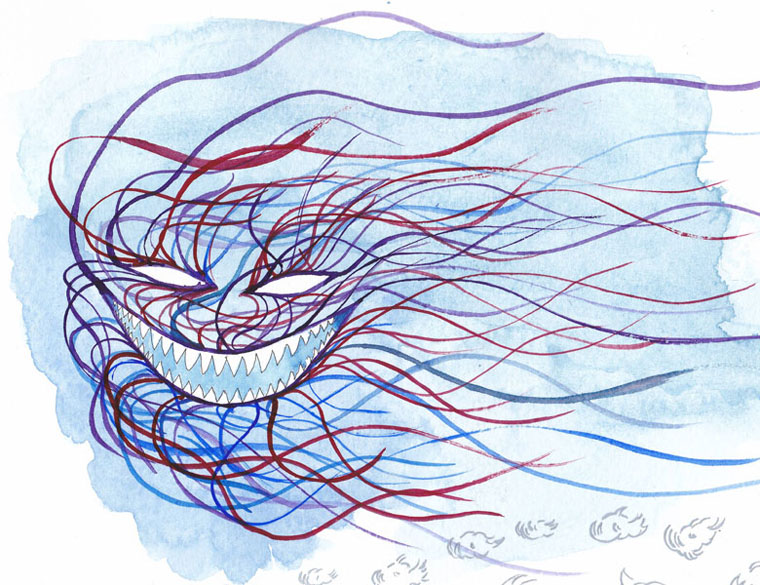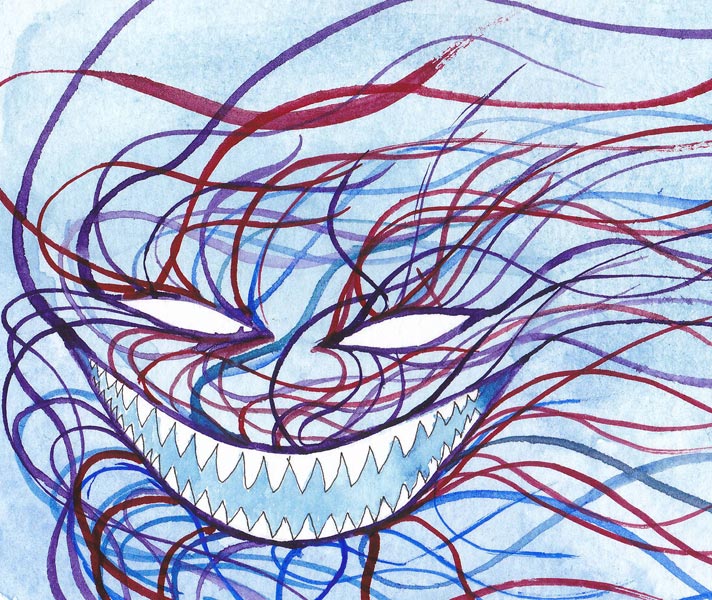 The Monster of the Wind
The Monster of the Wind is a very pretty and reassuring monster. He is all in blue and azure tones, and lightly floats in the spring breeze with his soft (tentacles?) swaying graceful and smurfy. If you see him flying in mid-air like an innocuous dandelion boll, the first thing you will do is stretch your tender little hand toward him, saying in the idiotic tone that we humans use to address cat puppies: "How cute are you, you lovely fluffy thing!". The second thing you will do is to say farewell forever to your ex-hand, while the adorable monster is eating it. In parentheses, at this point you should run away because your hand for him is just an appetizer.
If instead you are cautious, and before going out happy and content for a walk to be devoured by kawaii monsters you have studied the treaty of monstrology, you know that there is only one way to escape.
When he is not wandering and fluttering in search of prey, the Monster of the Wind has the passion of horror novels and consequently adores Stephen King. Obviously (like us all) he was traumatized by the pestiferous clown protagonist of It, so it's enough that you dressed as Pennywise and the Monster will not approach. Of course you have to respect the original description of the Master, and I recommend do not forget the silver contact lenses.
If you do not follow the directions because you are worried that your neighbors, seeing you going out disguised as a psychopathic clown, may consider you extravagant, do whatever the hell you want. After all unless you're Jaime Lannister you are supposed to have two hands.
Excerpt from the notes for an essay on monstrology. Grammatical errors are due to the sudden and mysterious disappearance of the Author.
Il Mostro del Vento
Il Mostro del Vento è un mostro molto carino e rassicurante. È tutto in toni di blu e azzurro, fluttua leggero nella brezza primaverile con i suoi morbidi (tentacoli?) che ondeggiano eleganti e puffosi. Se lo vedete volteggiare a mezz'aria come un innocuo batuffolo di soffione, la prima cosa che farete sarà allungare la vostra tenera manina verso di lui dicendo con il tono idiota che noi umani usiamo per rivolgerci ai cuccioli di gatto: "Ma come sei carino, piccolo coso soffice!" La seconda cosa che farete sarà dire addio per sempre alla vostra ex-mano mentre l'adorabile mostro se la mangia. Tra parentesi, a questo punto vi conviene scappare perché la vostra mano per lui è solo un antipasto.
Se invece siete avveduti e prima di andarvene a spasso felici e beati a farvi divorare da mostri kawaii avete studiato il trattato di mostrologia, saprete che c'è un solo modo per sfuggirgli.
Quando non si aggira svolazzando in cerca di prede, Il Mostro del Vento ha la passione dei romanzi horror e di conseguenza adora Stephen King. Ovviamente (come tutti noi) è rimasto traumatizzato dal pestifero pagliaccio protagonista di It, quindi basta che prima di uscire per la vostra passeggiata vi travestiate da Pennywise e il Mostro non si avvicinerà. Naturalmente dovete seguire alla lettera la descrizione originale del Maestro, e mi raccomando non dimenticate le lenti a contatto color argento.
Se poi non seguite le indicazioni perché temete che vedendovi uscire travestiti da clown psicopatico i vostri vicini vi possano considerare stravaganti fate come vi pare, in fondo a meno che non siate Jaime Lannister di mani dovreste averne due.

The Monster of the Wind (2017)

Watercolour and ink on paper – 8" x 6"
Acuarela y tinta china sobre papel – 15 x 21 cm
Acquerello e china su carta – 15 x 21 cm

back to works