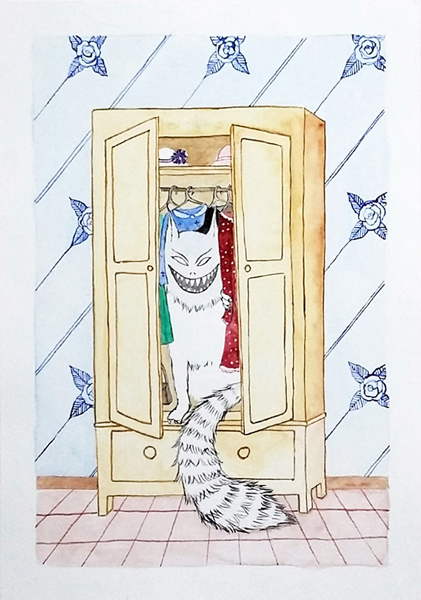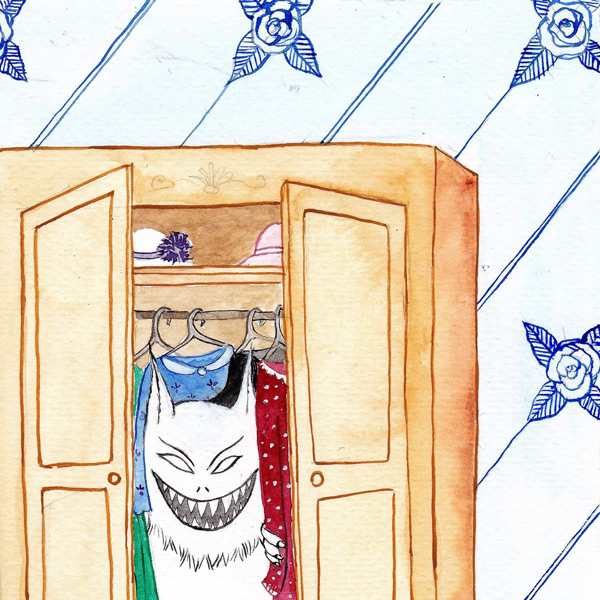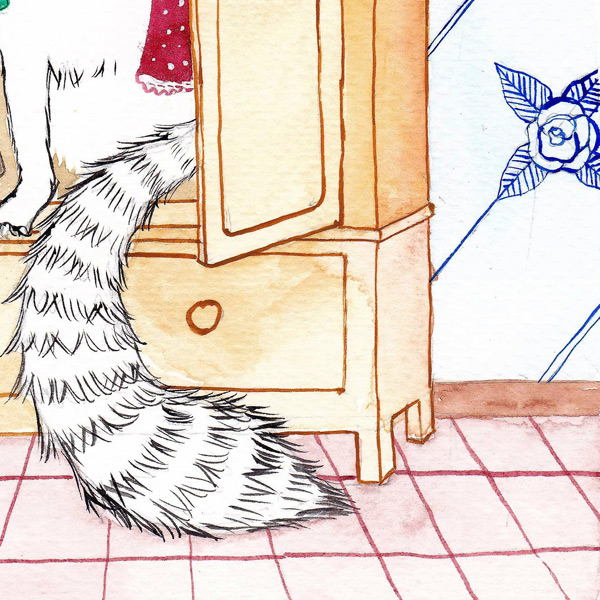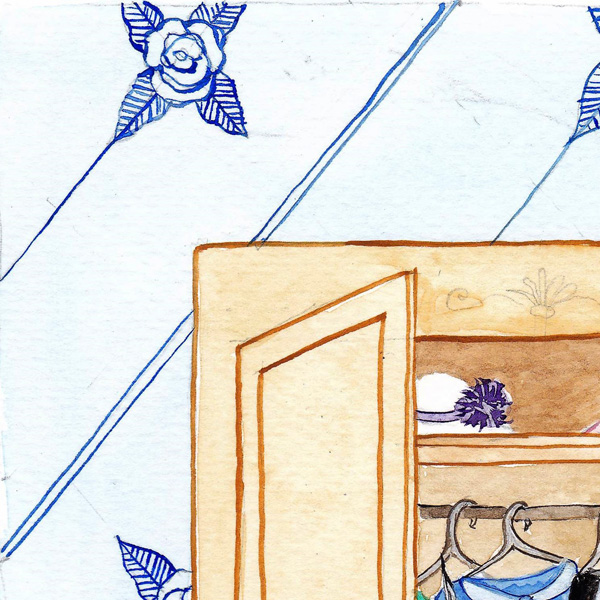 The Monster of the Wardrobe
The Monster of the Wardrobe lives in the wardrobes, but uniquely in those that contain clothes and accessories. You will not find him inside shoe organizers, cabinets, sideboard or lockers, moreover already abundantly colonized by other monsters.
He loves wild Siberian mink furs, but only if they are worn by the legitimate owner alive and well (he is very much involved in protecting the environment).
Being a distant relative of Eega Beeva, in the past he ate mothballs and was therefore harmless to humans, unless of course someone was trying to get his favorite silk scarf on the top shelf. This was considered an outrage and the comprehensible reaction of the monster was a roar of protest so loud and frightening to cause to the impudent scarfs subtractor the loss of hearing or a heart attack (or both), but everything ended there without rancor because the monster was not hungry, he was just irritated, and for a good reason.
Unfortunately times change and nowadays only grannies still use mothballs. All people under 80 have replaced them with scented bags, cedar balls, killer cassettes and other modern devilry, forcing the monster, poor thing, to supplement his diet with humans. However don't worry, he will not devour you. He will just swallow you, never let your blood stain his collection of beaded bags (what a horror!).
If opening the door of your wardrobe you face with this fashion monster, to avoid being swallowed you have to hurry to propose him to go out shopping, promising to take him to the most stylish shops in your town and buy anything he want. You should know, however, that he adores Dior vintage haute couture, so before leaving talk to your accountant / bank manager and try to get an affordable mortgage for buyers threated by monsters. Maybe let him eat you is more convenient..
Excerpt from the notes for an essay on monstrology. Grammatical errors are due to the sudden and mysterious disappearance of the Author.
Il Mostro del Guardaroba
Il Mostro del Guardaroba vive negli armadi, ma solo in quelli che contengono abiti e accessori. Non lo troverete all'interno di scarpiere, credenze, armadi a muro o ripostigli, peraltro già abbondantemente colonizzati da altri mostri. Adora le pelliccie di visone siberiano selvaggio ma solo se le indossa il legittimo proprietario vivo e vegeto (è molto attento alla salvaguardia dell'ambiente). Essendo parente alla lontana di Eta Beta, in passato si nutriva di palline di naftalina quindi era innocuo per gli umani. A meno che ovviamente qualcuno non cercasse di prendere dal ripiano in alto la sua sciarpa di seta preferita. Questo era considerato un affronto e la comprensibile reazione del mostro era di ruggire così forte da provocare all'impudente sottrattore di sciarpe la perdita dell'udito o un infarto (o entrambi), ma tutto finiva lì perché il mostro non aveva fame. Purtroppo i tempi cambiano e al giorno d'oggi solo le nonnine usano ancora la naftalina, mentre tutte le persone sotto gli 80 anni le hanno sostituite con sacchetti profumati, palline di cedro e altre diavolerie moderne costringendo il Mostro dell'armadio, poverino, a integrare la sua dieta con gli umani. Comunque non vi preoccupate, non vi divorerà. Si limiterà ad inghiottirvi in un solo boccone, non sia mai che il vostro sangue possa macchiare irrimediabilmente la sua collezione di pochette ricamate (che orrore!).
Se aprendo l'anta del vostro armadio vi trovate di fronte a questo fashion mostro per evitare di essere ingoiati dovete affrettarvi a proporgli di uscire a fare shopping, promettendogli di portarlo nei negozi più in della vostra città e di comprargli quello che più gli piace. Sappiate che adora i capi Dior vintage haute couture, quindi prima di uscire parlate con il vostro commercialista e/o il direttore della vostra banca, cercando di ottenere un mutuo a tasso agevolato per acquirenti minacciati da mostri. Forse farvi divorare è più conveniente.

The Monster of the Wardrobe (2017)

Watercolour and ink on paper – 8" x 6"
Acuarela y tinta china sobre papel – 15 x 21 cm
Acquerello e china su carta – 15 x 21 cm


back to works