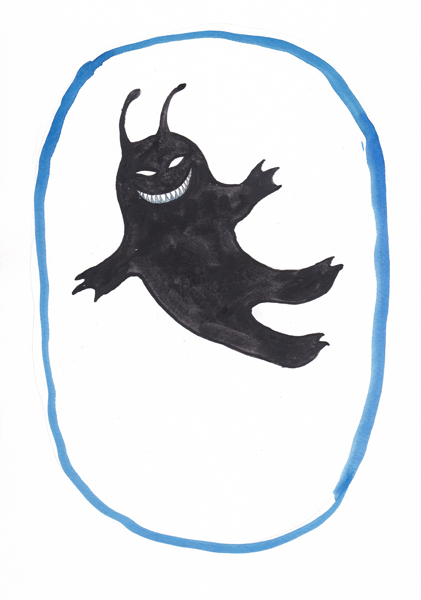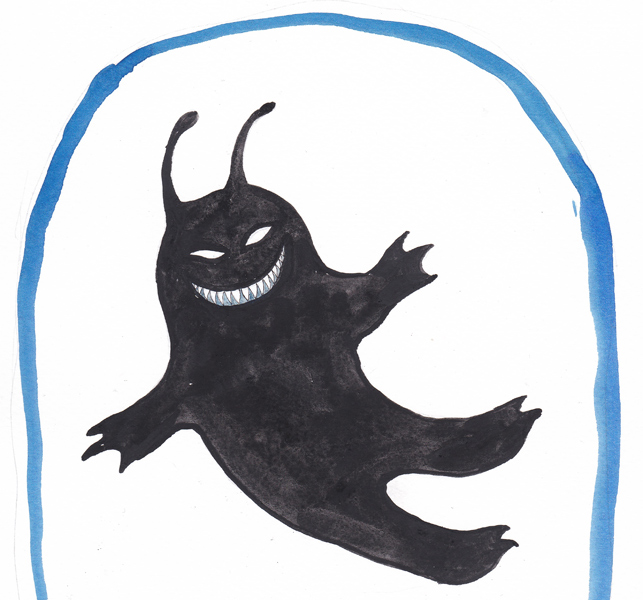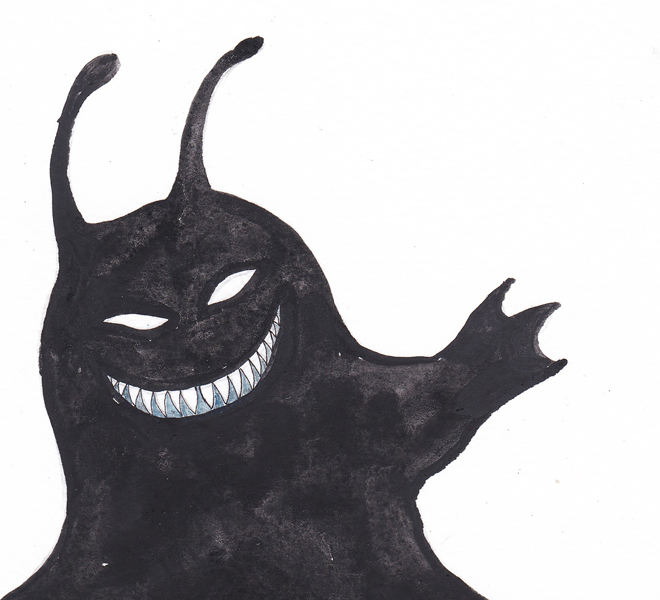 The Monster of the Deep Space
The Monster of the Deep Space is black, but of a black so black that, in comparison, the deep space looks white. In this more unique than rare shot taken by the intrepid Author, the Monster is surrounded by a blue line to locate it, because even if compared to the Monster the deep space seems white, it is still black.
Now that we have exhausted the chromatic disquisitions, let's go to the survival instructions.
This extremely dangerous and ruthless Monster eats men, women, and children without batting an eyelash.
However, it must be emphasized that the population density in deep space gets close to the absolute zero,
so if you do not plan to go around the cosmos with no space suit, there should not be too much risk.
Nevertheless, it is better not to feel too safe and keep an eye on the sky, remembering how the dinosaurs ended up. And if you really think it was the fault of a meteorite, ask yourself why only the bones were left...
Excerpt from the notes for an essay on monstrology. Grammatical errors are due to the sudden and mysterious disappearance of the Author.
Il Mostro dello Spazio Profondo
Il Mostro dello Spazio Profondo è nero, ma di un nero talmente nero che a confronto lo spazio sembra bianco. In questa istantanea più unica che rara scattata dall'intrepido Autore, il Mostro è evidenziato tramite un circolo azzurro per poterlo individuare, perché anche se confrontato con il Mostro lo spazio profondo sembra bianco è pur sempre nero.
Ora che abbiamo esaurito le disquisizioni cromatiche passiamo alle istruzioni di sopravvivenza.
Questo mostro pericolosissimo e spietato mangia senza battere ciglio uomini, donne e bambini. Tuttavia bisogna sottolineare che la densità di popolazione nello spazio profondo rasenta lo zero assoluto, pertanto se non avete in programma di andare a farvi un giro nel cosmo senza tuta spaziale non ci dovrebbero essere troppi rischi. Comunque meglio non sentirsi troppo sicuri e tenere d'occhio il cielo, ricordando che fine hanno fatto i dinosauri. E se pensate davvero che sia stata colpa di un meteorite, chiedetevi come mai sono rimaste solo le ossa…

The Monster of the Deep Space (2017)

Watercolour and ink on paper – 8" x 6"
Acuarela y tinta china sobre papel – 15 x 21 cm
Acquerello e china su carta – 15 x 21 cm

back to works