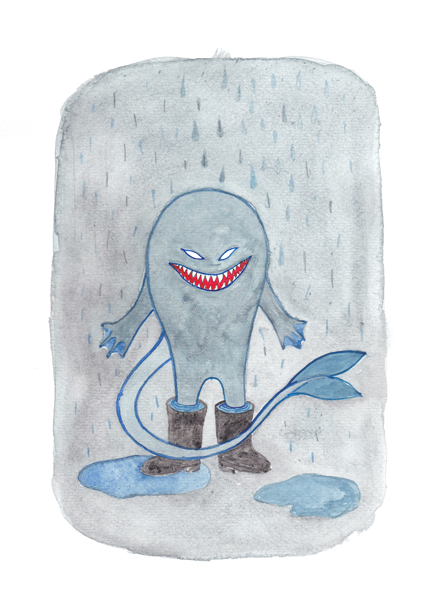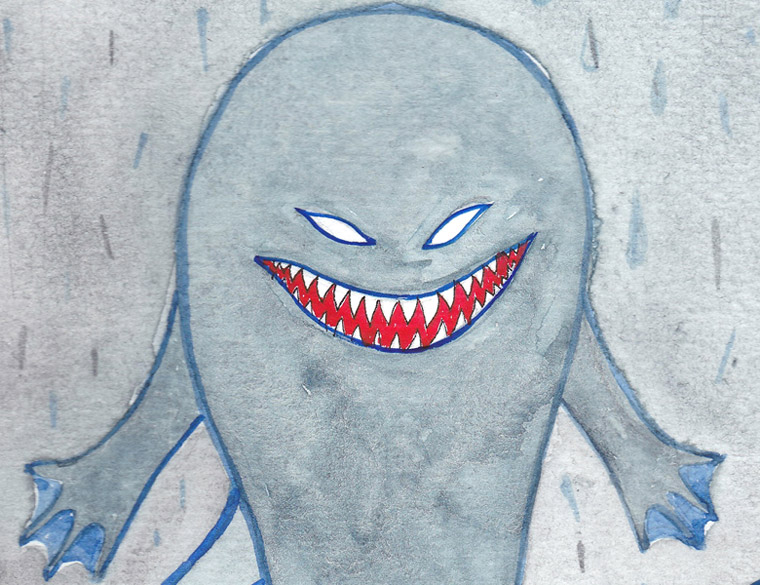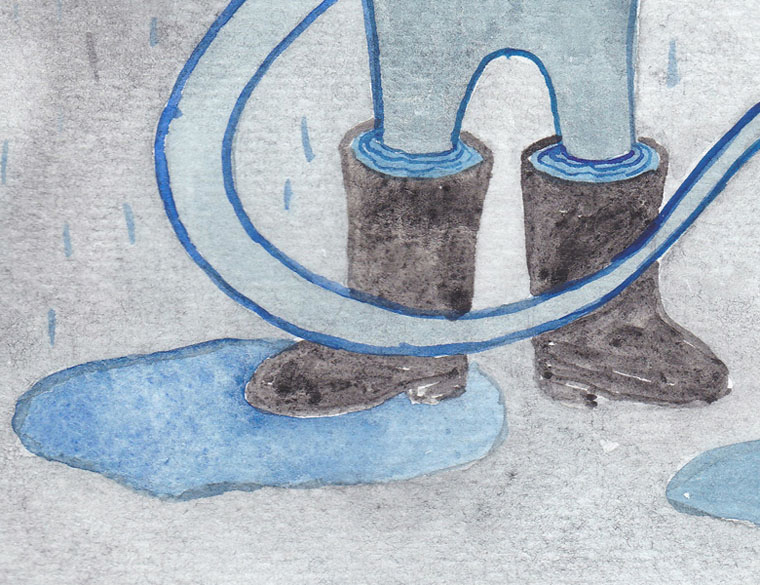 The Monster of the Rain
The Monster of the Rain does not live in the rain but materializes himself in the puddles. His name, therefore, can create a dangerous confusion, but he has categorically refused to call himself "The Monster of the Puddles" and honestly it is hard to blame him.
He wanted to be called "Terrific and Scary Monster of Thunder, Lightning and Hurricane" (with all the capitals) but I pointed out that he is not Daenerys Targaryen and in the end we found a compromise on "The Monster of the Rain".
He is one of the most controversial monsters of the species; in fact he is metereopathic and hates humidity. He would like to move to Australia, but it is well known that in that wonderful Country the puddles don't even exist, so if you live in Australia don't have to worry about him. If you live in the rest of the world, worry about him.
Excerpt from the notes for an essay on monstrology. Grammatical errors are due to the sudden and mysterious disappearance of the Author.
Il Mostro della Pioggia
Il Mostro della Pioggia non vive nella pioggia ma si materializza nelle pozzanghere. Il suo nome pertanto può generare una pericolosa confusione, ma lui si è rifiutato categoricamente di chiamarsi "Mostro delle Pozzanghere" e in effetti è un po' difficile dargli torto. Lui voleva chiamarsi "Terrificante e Spaventoso Mostro del Tuono, del Fulmine e dell'Uragano" (con tutte le maiuscole) ma gli ho fatto presente che lui non è Daenerys Targaryen e alla fine abbiamo trovato un compromesso su Mostro della Pioggia.
È uno dei mostri più contraddittori della specie, infatti è metereopatico e odia l'umidità. Vorrebbe trasferirsi in Australia ma è risaputo che in quel meraviglioso Paese le pozzanghere non esistono proprio, quindi se vivete in Australia non vi dovete preoccupare. Se vivete in tutto il resto del mondo invece sì.

The Monster of the Rain (2017)

Watercolour and ink on paper – 8" x 6"
Acuarela y tinta china sobre papel – 15 x 21 cm
Acquerello e china su carta – 15 x 21 cm


back to works