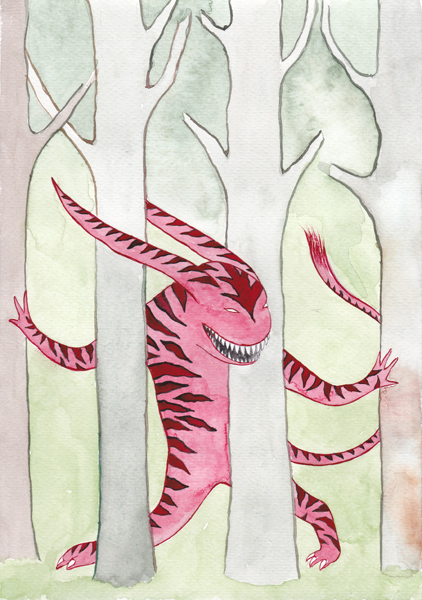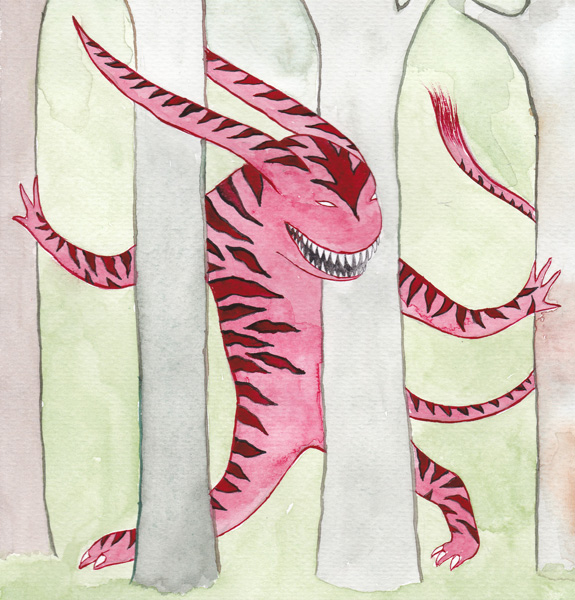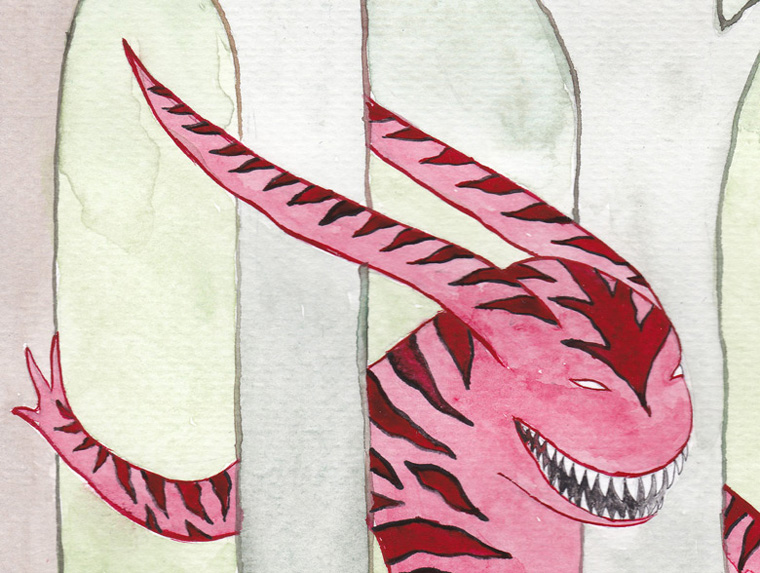 The Monster of the Forest
The Monster of the Forest is first cousin of the Monster of the Wood, but he considers himself much more frightful due to the location and never fails to point it out.
He eats any human without being as picky as his relative, however there is a small problem: he is of an intense red vermilion colour and lives in a forest of a deep green forest colour, and seeing as the complementary colours are not an opinion, everybody sees him 2 miles away.
After reading in the National Geographic an article on the Bengal tiger, he thought of trying with the camouflage. He made appear on himself some beautiful red burgundy stripes without taking into account that he does not walk on 4 legs like the tiger but is biped, so his stripes are orthogonal to the trees and make it even more visible.
Therefore the Monster so far has not eaten anyone and it is no danger unless you walk in the forest with your nose buried in your smartphone, in which case adiós.
Excerpt from the notes for an essay on monstrology. Grammatical errors are due to the sudden and mysterious disappearance of the Author.
Il Mostro della Foresta
Il Mostro della Foresta è primo cugino del Mostro del Bosco ma si considera molto più terrificante a causa della location e non manca mai di farglielo pesare.
Mangia qualsiasi essere umano senza essere tanto schizzinoso come il parente, tuttavia c'è un piccolo problema: lui è di un intenso rosso vermiglio e vive in una foresta di un bel verde foresta, e visto che i colori complementari non sono un'opinione chiunque lo vede a 2 kilometri di distanza.
Dopo aver letto sul National Geographic un articolo sulla tigre del Bengala ha pensato di tentare con il mimetismo. Ha fatto comparire su se stesso delle belle strisce rosso borgogna senza tenere in conto che lui non cammina a quattro zampe come la tigre ma è bipede, così le strisce sono ortogonali agli alberi e lo rendono ancora più visibile.
Pertanto il Mostro finora non ha mangiato nessuno e non è pericoloso a meno che voi non andiate a spasso nella foresta col naso infilato nel vostro smartphone, nel qual caso adiós.

The Monster of the Forest (2017)

Watercolour and ink on paper – 8" x 6"
Acuarela y tinta china sobre papel – 15 x 21 cm
Acquerello e china su carta – 15 x 21 cm

back to works