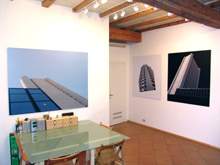 english -- español -- italiano
"the vacuity lingers over the buildings
ecstasy of the unperceivable
deviances in the absolute circular balance"
In this case, "mental architecture", which has been digitally enhanced, sustains and amplifies the structural and conceptual quality of the images.
The digital elaboration of the buildings is an obvious provocation, an excuse to play with a condition which would not be applicable to the reality of everyday life. At the same time it is useful and suitable as an aesthetical evaluation of the photographic reality.
The mental architecture overlaps the functionality evoked and expressed in the photographed structures as a value added. This architecture is an end in itself, which uses images that are strongly representative of both the primary needs and the activity of man, but at the same time it's a project of aesthetical abstraction inserted into architectural images, which creates possibilities for further reflection. Buildings and scaffolding are built to stimulate the mind through the use of typical planning tools and schemes. They shift our interest from what is useful and functional to a course that leads us to the verification of our condition as part of the immanent-transcendent side of our being, rather than focusing our attention on things.

felix
back to texts
"the vacuity lingers over the buildings
ecstasy of the unperceivable
deviances in the absolute circular balance"
En este caso las "arquitecturas mentales", puestas en evidencia utilizando intervenciones digitales, sostienen y amplifican la calidad estructural y conceptual de la imagen fotográfica presentada.
La elaboración digital de los edificios es una patente provocación, el juego pretexto de una condición no aplicable a la realidad del cotidiano, pero útil e idónea como valorización estética de la realidad fotográfica.
La arquitectura mental se sobrepone como valor añadido a la imagen de funcionalidad evocada y expresada por las estructuras fotografiadas; una arquitectura que hace referencia a si misma, y que utilizando imágenes muy representativas tanto de las exigencias primarias como de la operadividad del hombre, se propone con un proyecto de abstracción estética insertado en las mismas imagines arquitectónicas, como ulterior posibilidad de reflexión. Puentes y andamiajes construidos para estimular una búsqueda mental, que desde la funcionalidad del útil nos conducen (empleando instrumentos y esquemas proprios de los proyectos) a lo largo de un recorrido que ha como consecuencia la verificación de nuestra condición con aquel componente inmanente-trascendente que impregna la existencia y no de las cosas.

felix
back to texts
"la vacuità indugia sugli edifici
estasi dell'impercettibile
devianze nell'assoluto equilibrio circolare"
In questo caso le "architetture mentali ", evidenziate con l'utilizzo di interventi digitali, sostengono e amplificano la qualità strutturale e concettuale dell'immagine fotografica presentata.
L'elaborazione digitale degli edifici è una palese provocazione, il gioco pretesto di una condizione non applicabile alla realtà del quotidiano, ma utile e idonea quale valorizzazione estetica della realtà fotografica.
L' architettura mentale si sovrappone come valore aggiunto all'immagine di funzionalità evocata e espressa dalle strutture fotografate; una architettura fine a se stessa, che utilizzando immagini fortemente rappresentative sia delle esigenze primarie che della operatività dell'uomo, si propone con un progetto di astrazione estetica inserito nelle stesse immagini architettoniche, come ulteriore possibilità di riflessione. Ponti e impalcature costruiti per stimolare una ricerca mentale, che dalla funzionalità dell'utile ci conducono, utilizzando strumenti e schemi propri della progettualità, lungo un percorso che ha come conseguenza la verifica della nostra condizione con quella componente immanente-trascendente che permea l'esistenza e non delle cose.

felix
back to texts